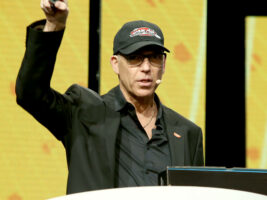 Sammy Ash, COO of Sam Ash and namer of the Tube Screamer, dies at 65
Sammy Ash – COO of one of the US's oldest music stores, Sam Ash – has died after battling stage four melanoma for 12 months. Aside from heading up operations at Sam Ash, he famously gave the Tube Screamer its name, according to the pedal's inventor Susumu Tamura.
Ash passed on Saturday, 16 September, according to a statement released by his brother Richard, the current president and CEO of Sam Ash Music. He writes [per SNBC 13]: "My baby brother Sammy Ash passed away yesterday at 9 am. He was only 65 years old. He fought a courageous 12-month battle with stage 4 melanoma. I am heartbroken.
"He was a loving father of four boys. Cancer sucks. Life is not fair. He did not deserve to die. He was a warm, caring, generous man. I am sure many of you have dealt with cancer in your family. When it hits home, it is devastating. I loved him with all my heart. Rest in peace, my brother."
Sammy Ash was named after his grandfather who founded the Sam Ash Music Company in New York City in 1924, and was a respected friend to many in the industry.
Words of condolence have been shared online from Gibson's Mark Agnesi, who posted a video with Sammy Ash on Instagram and wrote, "The guitar business has lost one of the greats. Sammy Ash was a legend in the industry, a great father, and a passionate guitar nerd. I'm proud to have called him a friend. My condolences to the Ash family."
In the video posted by Agnesi, Ash can be seen sharing his pride for the business, and of his brothers and father for keeping the iconic chain of stores thriving. He of course mentions how he named the Tube Screamer, too.
View this post on Instagram
A post shared by Mark Agnesi (@markagnesi)
 
Our thoughts are with the friends and family of Sammy Ash at this difficult time.
The post Sammy Ash, COO of Sam Ash and namer of the Tube Screamer, dies at 65 appeared first on Guitar.com | All Things Guitar.
Source: www.guitar-bass.net