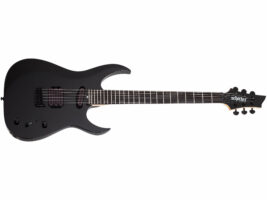 Schecter's new Sunset Triad guitar features a tri-coil pickup
Schecter's new guitar has some interesting features – including a tri-coil pickup.
The Sunset Triad comes with a triple-coil pickup called the Tripocalypse. It's not the first guitar to feature one, of course, with Fender's Marauder from 2011 having one in the bridge position, but it's one of a select group of guitars.
Going further back, there was DiMarzio's Vox-only Three-90 pickup, while back in the 1980s The Police's Andy Summers used a Hamer Phantom with a triple-coil pickup.
READ MORE: Is Synyster Gates about to add a headless Schecter to his signature model lineup?
In the time between the Marauder and the Sunset Triad coming out, tri-coil pickups have been few and far between. So, why has Schecter decided to bring it back?
The extra pickup configuration options a tri-coil pickup brings are part of the reasoning – the Sunset Triad has a five-way switch to invite a range of combinations.
You can go for standard bridge humbucker or full triple-coil only modes, or look at using the Tripocalypse's inner coil only.
If you feel like getting on your hands on the Sunset Triad, which also comes with an ebony fingerboard and stainless steel frets, it'll set you back $899.
Two months ago, Schecter announced two new guitars, both half-electric, half-acoustic, semi-hollow updated versions of the original C-1 E/A Classic design.
The guitars' features include the Fishman Powerbridge piezo pickup system, 24 jumbo frets, and a set of passive humbuckers.
However, they're both a little more expensive than the Sunset Triad, currently on offer at $1,499 down from $2149.
Meanwhile, Schecter signed YouTuber and guitarist Rob Scallon in May, also sharing three new guitar models with six, seven and eight strings respectively.
You can find out more about the Sunset Triad over at Schecter.
The post Schecter's new Sunset Triad guitar features a tri-coil pickup appeared first on Guitar.com | All Things Guitar.
Source: www.guitar-bass.net