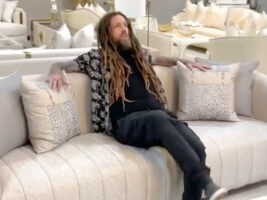 Korn's Brian Welch has randomly done an advert for a furniture store
Korn guitarist Brian "Head" Welch appears to have done an advert for a furniture store situated in his home city of Bakersfield.
Apparently when he's not hair-flipping on stage with the band, Welch is giving video tours of Furniture City, and asking Y'all Want A Single or double bed? Don't worry, we'll see ourselves out…
READ MORE: Corey Taylor says this is Slipknot's most overrated song
In a new video posted by the company on Instagram, Head can be seen giving a very rock 'n' roll tour of the furniture showrooms, showing off various extravagant chandeliers and a very fancy sofa which he says in the video, "reminds me of Vegas".
Although the nu-metal guitarist might be the last person you'd think of to show off a bunch of furniture, users on Instagram appear to be loving the rocker's tour, with commenters remarking, "ARE YOU READY? For furniture deals…", and "Good place to buy a 'Head' board".
Check out the video below (we're sure you can think of plenty more puns):
View this post on Instagram
A post shared by Furniture City – Bakersfield (@furniture.city.bakersfield)
Korn released their latest album, Requiem last year (2022), and in an interview with Guitar.com following the release, Head shared his thoughts about the overall theme of the album: "You can only feel that heavy cloud above you for so many years.
"I love this album because it has a healing vibe. It's got more positivity than past Korn records and it's more vulnerable," he explained. The band are also set to perform at Aftershock festival in Sacramento, CA, on Saturday 7 October this year.
In more recent news, fellow Korn guitarist and co-founder James "Munky" Shaffer has launched an electronic music project with composer and filmmaker Chris Hunt. The duo, called Venera, are set to release their debut self-titled album on 13 October later this year.
You can stream their latest single below:
The post Korn's Brian Welch has randomly done an advert for a furniture store appeared first on Guitar.com | All Things Guitar.
Source: www.guitar-bass.net