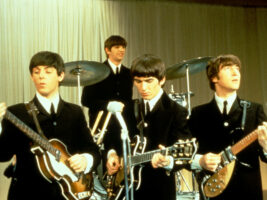 Signed document that ended The Beatles expected to sell for $500,000
A signed document that officially marked the end of The Beatles is expected to fetch nearly $500,000 at an upcoming auction.
READ MORE: The Black Crowes' Rich Robinson: "Anyone who calls Jimmy Page sloppy – f*** that. He's a god of guitar"
Dated 29 December 1974, the two-page document that released the members from their obligations as a band will be going under the hammer via Gotta Have Rock and Roll, an auction house specialising in music memorabilia.
The contract is estimated to fetch between $300,000 and $500,000, with a current bid of $100,000 at the time of writing. Per the listing, the breakup document has been signed by all four members — twice by John Lennon and George Harrison, who were also acting as Directors of Apple Corps Ltd. Apple is the record label founded by The Beatles in 1968 to replace their earlier company, Beatles Ltd.
"The friendship was still there. They were brothers. There was no animosity," Lennon's partner May Pang told The New York Times in 2008. "And even though they all felt they had to break up to get to the next level of their musical careers, John had started this band that changed the world. It changed pop culture. It changed how we live and how we dress. And he knew that. So, when he sat down to sign, he knew that this was it. His was the last signature. As he had started the group, he was the one to end it."
The auction ends on 30 June and can be viewed at Gotta Have It Rock and Roll. Other notable Beatles memorabilia that are up for sale include a handwritten Beatles setlist, also signed by all members – which is expected to sell for between $300,000 and $500,000 – and a 1968 "White Album", signed by Lennon and McCartney, which is tipped to sell for between $50,000 and $75,000.
In other Beatles news, Paul McCartney recently revealed he's been using AI to process old recordings of John Lennon's voice to create the "final Beatles record".
The post Signed document that ended The Beatles expected to sell for $500,000 appeared first on Guitar.com | All Things Guitar.
Source: www.guitar-bass.net