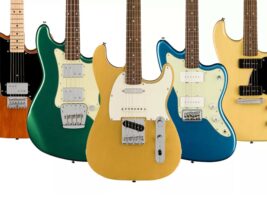 Squier updates the Paranormal range with a slab-bodied Strat, 12-string Jazzmaster and more
Fender has unveiled a series of new Squier Paranormal models, which take quirky twists on Fender's classic designs.
READ MORE: Ex-Met Police officer admits to accepting Metallica tickets as a bribe
Five new designs have been added to the Paranormal collection, which first launched in the early 2000s, and then came back in 2020. They were then made a part of the standard Squier lineup in 2020.
Firstly, is the Custom Nashville Stratocaster in Aztec Gold. The Nashville Tele is of course a Fender staple that sports a Strat pickup in the middle of the classic Tele neck and bridge pickups, beloved by Country session players for decades. Well, the Nashville Strat keeps that recipe – including the Tele scratchplate – and transfers it onto a Strat body shape. Unlike the usual Strat however, there's no contours here – in another Tele-meets-Strat twist, the classic lines of Leo's greatest creation are presented in blue-collar slab-bodied form.
In addition you get a poplar body with a C-shaped maple neck, 21 frets and a laurel fingerboard, with a classic three-saddle Tele bridge, vintage-style tuners and Fender-designed Alnico pickups, and comes in Sunburst or very lovely Aztec Gold.
Another eye-catching entrant into the range is a very 70s-vibed take on the humble Esquire – the Esquire Deluxe. The Deluxe keeps the basic recipe of a single-pickup Tele but puts a very CBS-era twist on the raw materials, swapping the traditional single-coil for a Fender-designed Wide Range Humbucker, an enlarged Tele Deluxe pickguard and big 70s-style Fender headstock.
There's a pair of amp-style knobs for volume and tone but also a chickenhead rotary switch to allow for humbucking and single-coil modes, as well as a third mode that bypasses both volume and tone on the humbucker setting. It comes in either black or very 70s Mocha.
The original Fender Electric XII took an offset body and added some split pickups and a hockey stick headstock, well the Squier Jazzmaster XII goes halfway there – you still get the headstock of course, but here it's paired with a standard hardtail six-saddle bridge, a pair of Jazzmaster single-coils and a three-way toggle. Get it in either Olympic White or Lake Placid Blue.
Rounding out the guitars in the new wave of Paranormal guitars is a return for the venerable Strat-O-Sonic – last seen in the early 2000s. Like the original, the Squier version takes an unrouted Strat body and pairs it with a scaled-down pickguard, some P-90 pickups a tune-o-matic wrapover tailpiece and a choice of Vintage Blonde or  Crimson Red Transparent finishes – the perfect Fender-meets-Gibson matchup?
Finally, we have the only bass in the collection a return for the much-loved Rascal bass, this time in Squier format. Keeping all the vintage vibe of the original with its Bass VI body, short-scale neck and Coronado Bass headstock, but ditching the trio of lipstick pickups for a pair of Wide Range buckers. It's very possibly one of the nicest bass designs in Fender's catalogue, especially in the offered Sherwood Green and Metallic Black finishes.
Regarding price, the Nashville Strat, Strat-O-Sonic and Esquire Deluxe are being listed for a reasonable $429, while the rest are $449.
For more information, you can head to Fender.com. 
The post Squier updates the Paranormal range with a slab-bodied Strat, 12-string Jazzmaster and more appeared first on Guitar.com | All Things Guitar.
Source: www.guitar-bass.net