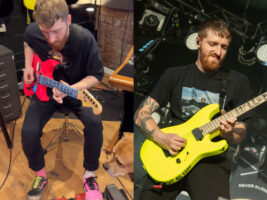 Guitarist goes viral for his out-of-this-world double-Whammy technique
Guitar Instagram is a bountiful source of weird and wacky six-string antics, with players pushing the boundaries of what their gear is capable of. And that's exactly what Sean Long has been doing in recent weeks, earning himself a dose of virality in the process.
In several recent clips posted to his profile, the While She Sleeps axe-slinger has been showcasing his rather unusual approach to using a DigiTech Whammy pedal, or more specifically, using two at the same time.
READ MORE: Jimmy Page and Jack White love Metallica's St. Anger, according to Bob Rock
In the videos, Long can be seen playing his modified Charvel electric guitar through two identical Whammy pedals, with his left foot on the expression pedal of one and his right tapping the 'Momentary' footswitch of the other.
The resultant sound is one Long describes as inspired by electronic music. "My mum used to play '90s dance music a lot when I was a kid," the guitarist tells Guitar World. "And now it's coming through basically all of my writing [for the new album]. I realised that a lot of the synths that were used back then were always bending note to note, so it has a huge nostalgic pull for me when creating these leads.
https://www.instagram.com/reel/CpcTHoRAnkZ/
"I've been using the Whammy for years on multiple settings and I've always had a vision to be able to use the first octave setting and the second down together, so I finally went for it with this writing process."
He continues: "I'm using the Whammy DT to stomp up the octave with the Momentary switch in a 4×4 beat,"he explained, "whilst at certain intervals using my original Whammy to bend 2nd down, which is essentially a two-fret move."
The clips, which have appeared sporadically since early March, have been viewed collectively over two million times, so people are clearly paying attention to Long's avant-garde playing.
https://www.instagram.com/reel/CqkPrvYA92L/
Earlier this year, While She Sleeps announced they were working on their yet-untitled sixth studio album. Upon its release, it will follow 2021's Sleeps Society.
It's unclear as of yet whether any of Long's double-Whammy playing will appear on the new record, but given the frequency of the videos, we'd wager it's likely.
Regarding the logistics of how he'd be able to recreate the effect in a live setting if he was required to do so, he adds: "I'll figure it out – anything is possible. Honestly, I prefer to just create in the studio and worry about these things later… Having said that, I think I'm potentially going to raise one of them up and place it behind me, so I can use my heel to do the bends and balance on both."
https://www.instagram.com/reel/CsY8rIYg3nt/
The post Guitarist goes viral for his out-of-this-world double-Whammy technique appeared first on Guitar.com | All Things Guitar.
Source: www.guitar-bass.net