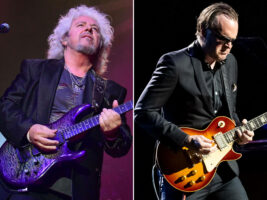 Steve Lukather says Joe Bonamassa's house "smells like an old Les Paul case"
Steve Lukather has no shortage of fancy guitars these days, but that wasn't always the case for the Toto guitarist, who said he used to borrow them before he could afford his own collection.
READ MORE: "If you're giving them a great show, they're not gonna do that": Dave Mustaine on fans throwing things at artists during concerts
In a recent chat with Guitar World, Lukather looks back on some of the "shitty guitars" of his early days – including a Kay acoustic he got from a Thrifty Drug Store that was "painful to try to get a noise out of", and an electric called Astrotone that "fell over and broke its neck".
"So what I used to do was borrow guitars from people who had good guitars," the rocker says. "A Fender or Gibson or something like that was rare back then, but they existed."
"My father would go on the road while he was working behind the cameras in the television movie business and he would come home and say, 'Where do you want to go?' Instead of going to the toy store, I wanted to go to the guitar store and play all the expensive guitars I couldn't afford."
He adds, "One time I got in there and I grabbed this Les Paul Deluxe off the wall and I was playing my ass off, I guess. I was gonna put it on the wall again and my dad goes, 'Well, let's get it in the car… I thought he was buying me an amp, but he said, 'No, the guitar, too.' He gave up getting a new car for himself to give me an Ampeg VT-22 amp and a Les Paul Deluxe. My parents were great."
The guitarist says that while he doesn't really "go out collecting any more," he's got a lot of friends who are into the hobby, such as "Joe Bonamassa, who's one of the greats of all time and a dear friend of mine."
"I mean, his house smells like an old Les Paul case!"
Which isn't a surprise, given the blues maestro reportedly lives with over 500 guitars and 500 amps in his LA house.
During the interview, Lukather was also asked if given the choice, would he go for a good guitar with a cheap amp or vice versa, to which the man replies: "There's no magic guitar, no magic amp, there's just magic people. I've played Eddie Van Halen's guitars, Jeff Beck's guitars, and I sound like me."
"A great guitar and a great amp? Sure, that helps. How could it not? But if you give a 1959 Les Paul to a 10-year-old kid that can't play it's not gonna make him sound like Gary Moore. You know what I mean?"
The post Steve Lukather says Joe Bonamassa's house "smells like an old Les Paul case" appeared first on Guitar.com | All Things Guitar.
Source: www.guitar-bass.net