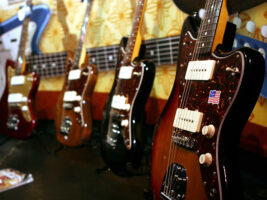 "I don't see it stopping right now at all": Fender executive on the booming popularity of the Jazzmaster
Fender's director of product Allen Abbassi has commented on the booming popularity of offset guitars like the Jazzmaster and Jaguar.
READ MORE: Brian May on the Queen song that inspired Eddie Van Halen's two-handed tapping
In a new interview with Guitar World, the executive speaks about how more and more players are opting for such body shapes, saying, "You know, it's interesting because I think, up till now, we've seen a pretty steady increase in popularity of the offsets, and it doesn't seem to be waning."
"Certain models, like Mustangs, usually wax and wane a little bit more than, say, Jazzmasters. For some reason, Jazzmasters seem to be the more popular offset."
Abbassi continues: "But we recently did the anniversary of the Jaguar and we did some anniversary models there. And in our new American Vintage series, we removed the Jaguar, and we heard some feedback about that, like, 'Hey, where did the Jaguar go?' So I think there's been a very steady increase in popularity with the offsets and I have not seen that start to decrease at all."
He adds that decades ago, players started to gravitate towards vintage Fender offsets simply because they were the cheaper option. "And I think once people started doing that, they just discovered the beauty and the variety of tones you can get out of the offset instruments like the Jazzmaster and the Jaguar," Abbassi says.
"And the more models we offered and the more artists that started using them, and the more songs that started to be recorded using offsets, it just increased people's interest. And that's just been steadily increasing and I don't see it stopping right now at all."
Elsewhere in the chat, Abbassi also explains the company's preference for "medium-to-low" output pickups, saying "One thing I've learned over time is that if you like to use overdrive and a lot of effects, sometimes a lower-output pickup is better suited to handle that kind of environment."
"Of course, there's a lot of players that do like more output so they can get a chunkier, heavier distortion," he says. "We do offer a lot of different types of pickup, but we never – even with our humbuckers – get to the super-hot realm of resistance on a pickup. We stayed at the medium-to-low end of the range."
The post "I don't see it stopping right now at all": Fender executive on the booming popularity of the Jazzmaster appeared first on Guitar.com | All Things Guitar.
Source: www.guitar-bass.net