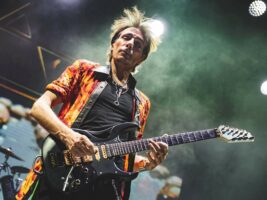 Steve Vai admits to being "a bit of a primadonna" during his time in Whitesnake
Steve Vai has admitted to being "a bit of a primadonna" during his stint as guitarist for the English hard rock outfit, Whitesnake.
READ MORE: "Whatever it takes to get a show on": Anthrax's Scott Ian on the use of backing tracks at live gigs
Speaking about his decision to join the David Coverdale-fronted band after parting ways with David Lee Roth, the virtuoso tells Vintage Rock Pod that "you have to honour your creative impulses or you slip into depression".
For Vai at the time, that creative impulse meant "turning [his] back on rock stardom" and finishing up his solo album Passion and Warfare.
"In my mind that's what I was doing — I was surrendering my career," he says. "Because the music for Passion and Warfare… I knew it was very different."
Vai says that he didn't know how he was going to tour the album given how "dense" and "complex" it was, adding that he'd lacked the confidence to perform instrumental music in front of an audience as he was used to having a frontman.
"So I thought, 'Well, it would make much more sense to tour with Whitesnake and make a record with them,'" he explains. "And for the momentum of that other side of my career, and lucky for me, I really liked the music of Whitesnake. Back then, their Whitesnake album [had] sold 25 million copies and it was a great record. I just love great singers, and Coverdale was a monster."
"I mean, come on. I watched that guy get on stage every night and deliver like a boss. So I thought 'Yeah, man! I want in.' It was great. When I got into the band, all the music was written and recorded for the Slip of the Tongue record. I just had to put the guitars on it. That was another really great group of guys."
Vai continues: "If anybody was difficult, it was me. I was a bit of a primadonna. I came from Dave Roth, and with Dave Roth, you learn certain things, how to navigate the business and navigate the magazines and the press and things like this. Plus I had Passion and Warfare out."
"It was blowing up while I was touring with Whitesnake. So we did the Slip of the Tongue, and we did a huge tour. It was fantastic. At the end of it, David was going through some personal things. He was going through a divorce, so he disbanded everything. But I knew instinctively that I [had to] do a record and a tour with them, and [then] return to the quirky music that was in my head. And I did."
The post Steve Vai admits to being "a bit of a primadonna" during his time in Whitesnake appeared first on Guitar.com | All Things Guitar.
Source: www.guitar-bass.net