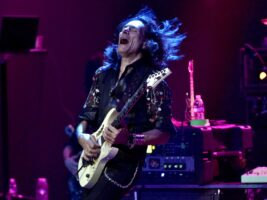 Steve Vai on the time an A&R told him to remove pinch harmonics
Steve Vai has shared his reaction to an encounter with an A&R executive who told him to remove pinch harmonics from a record he was working on.
READ MORE: Nuno Bettencourt shares his first meeting to Eddie Van Halen: "Like an idiot, I kicked into the solo from Get the Funk Out"
Speaking to MusicRadar about his recently released album Vai/Gash, Vai ventured into the sticky encounter with the executive while discussing the creative freedom he had on the new record. "I had an A&R guy come into the studio of a big band I was recording with, and I was playing harmonics," Vai began.
He continued, "Now, you know what a harmonic is? It's a squeal. It's part of my style. It's part of most guitar players' styles. And he goes, 'What's that?' And I go, 'Oh, it's a harmonic. You pinch it with your finger and… He goes, 'No, don't do that. It sounds like a dying whale.'"
"And I said, 'It's a pinch harmonic!' And he goes, 'Well take it out. Take it out.' It is all over the whole record and he says, 'Take them out. Take them all out.'"
The guitarist did not share much more on the encounter, but did share his response, sort of: "I said, 'Fuck you!' Well, in so many words."
Vai recently walked back on his comment that he was "sitting on a whole Ozzy record", explaining that while demos indeed exist, including one with vocals from Osbourne, they would take a lot of work to be made into an album. He shared, "I, like many Ozzy fans, would love if there was a secret hidden Ozzy album somewhere, only to be revealed to our surprised ears at a future time, but it wouldn't come from those sessions. So sorry for the confusion."
The post Steve Vai on the time an A&R told him to remove pinch harmonics appeared first on Guitar.com | All Things Guitar.
Source: www.guitar-bass.net