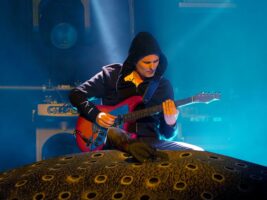 Matt Bellamy showcases new S-type Manson guitar onstage with Muse
Muse's Matt Bellamy has been out and about with the new double-cut from Manson Guitar Works on the band's current tour, and a new video of the band showcases the instrument live in action.
READ MORE: ESP has launched its long-anticipated Kirk Hammett LTD KH-V electric guitar
The Strat-style double-cut guitar, which Manson highlighted in a close-up image last week, can be heard clearly in the new fan footage video of Verona from the band's 2023 Chicago concert from the Muse France fanclub YouTube channel, which can be seen below. The guitar, Manson previously shared, is a prototype that was only recently completed for Muse's tour, and reportedly features custom pickups.
Watch the video below.
Other features that have been confirmed are a blue mirror pickguard representing the colours from the Will of the People artwork, as well as a jackplate used to make it look more like a traditional Stratocaster. Manson has yet to release further details on the guitar, with the prototype yet to appear on the brand's website.
Bellamy and Manson have also been working on a new fuzz pedal, first reported in August last year. Details on the pedal remain scarce, but Bellamy has previously indicated that the pedal will include features that he has personally made use of. "It will have an EQ curve that you can slide from left to right or invert to create more of a scoop," he explained, though he did not elaborate further.
The post Matt Bellamy showcases new S-type Manson guitar onstage with Muse appeared first on Guitar.com | All Things Guitar.
Source: www.guitar-bass.net