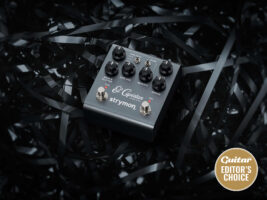 Strymon El Capistan V2 review: The finest tape echo sim around gets a subtle but important polish
At this point you probably know the deal with Strymon's recently updated V2 midi-pedals – after a decade or more of the likes of the BlueSky, Flint and El Capistan becoming fixtures on pro and non-pro pedalboards alike for their remarkable sound quality and ease of use, the Californian company has opted to overhaul six of its greatest hits to bring them up to modern spec in terms of connectivity and functionality.
READ MORE: Strymon BlueSky V2 review – the reigning champ rises to the competition
So in the case of Strymon's much-loved tape echo simulator the El Capistan, we get all the additions that the other five pedals sported, including MIDI, USB C, a discrete JFET input circuit and rear-panel mono/stereo switch (instead of having to root around inside the pedal to switch this). Under the hood it also benefits from a new ARM-based DSP chip that promises to use its hefty bump in processing power versus the SHARC-based originals to offer improved sonic fidelity with the concession of a slight bump in current draw (300mA versus the originals 250mA). As with five of the six V2 pedals, the V2 El Capistan also squeezes on an extra control knob – the Spring control gives you the ability to control the amount of spring reverb you want to add to the sound without affecting the level of dry or echo signal.
In use
The word 'MIDI' tends to make a significant proportion of the guitar-playing fraternity's eyes glaze over, but for those who don't run a mile at the prospect of a little digital connectivity, the addition of MIDI control to these V2 pedals is a real boon that unlocks a huge amount of tweakability that is otherwise hidden behind the pedal's rather labyrinth secondary control functions, which are accessed which are accessed by holding down various combinations of footswitches. By hooking the pedal up to a suitable controller via the combi TRS MIDI/expression jack, you have the ability to execute MIDI Control Change commands, MIDI clock sync and access to 300 preset locations. The USB-C port also enables you to download software updates, and control the El Capistan from a computer.
So what else is new? Well, the original El Capistan offered some of the most gorgeous and authentic sounding tape echo simulations you'll ever hear coming out of a guitar pedal and… well that's still the case with V2. There's a definite 'if it ain't broke' vibe to proceedings here, as there's not really any discernible difference in the actual algorithms being used here – but that doesn't mean they sound identical. Whether it's due to the increased fidelity of the beefed up processor, or the addition of that new JFET input circuit, there's a clarity and sensitivity to the sounds here that takes what was already a phenomenal sounding pedal and elevates the whole experience. It's subtle to be sure, but you won't want to go back to doing without it. The same can be said for the new spring control – the spring reverb effect is gentle and restrained, but dialling in just the right amount to add depth to your echo is really rewarding.
As with the other pedals in this V2 range, it's hard to really suggest that an upgrade is essential for V1 owners unless you're a MIDI disciple. If you haven't scaled the heights of El Cap before, there's never been a better time to try.
Key Features
PRICE £359
DESCRIPTION Tape echo pedal, made in the USA
CONTROLS Time, Wow & Flutter, Tape Age, Repeats, Spring, Mix, three-way mode switch, three-way tape head switch
FEATURES High impedance ultra low-noise discrete Class A JFET TRS stereo input, low impedance independent TS stereo outputs, USB-C port for MIDI control and firmware updates, 300 internal MIDI-selectable presets, ¼" jack for MIDI/expression pedal control, 9V centre-negative DC power only (300ma minimum, PSU included)
DIMENSIONS 114x102x44mm
CONTACT Strymon, Musicpsych Ltd
Like this, try these
Boss RE-202 Space Echo (£299)
Dawner Prince Boonar (£319)
Catalinbread Belle Epoch Deluxe (£329)
The post Strymon El Capistan V2 review: The finest tape echo sim around gets a subtle but important polish appeared first on Guitar.com | All Things Guitar.
Source: www.guitar-bass.net