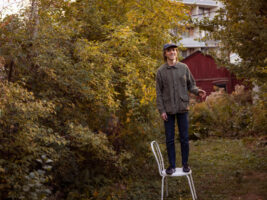 "I wanted to not think about the vintage gear that is so fetishised and not important" Andy Shauf on teaming up with Frank Ocean's producer to make a very kind of slow-burn album
For a while there, Andy Shauf went disco. With the pandemic closing in, and a European tour supporting his LP The Neon Skyline shelved, he hunkered down in his garage studio and attempted to channel the spirit of Björn and Benny. As the spring of 2020 wore on, he scratched away at the latest in a string of concept pieces before, in his own words, it came to a crashing halt. "I had a chance to reflect on what I was making and realised that it was terrible," he says on a Zoom call. "It was becoming a caricature of what I wanted to make. I had a bit of a mild crisis."
READ MORE: "We like to lovingly take the piss out of our fans!" Periphery on why Djent is, actually, a genre
There is an insularity to Shauf's work that suggests disco would be a difficult fit for him to pull off, but his desire to inhabit certain production spaces is well-founded. The Neon Skyline was folk-rock in the vein of Gordon Lightfoot or Bob Dylan circa Desire. Its predecessor, the ingenious bottle episode The Party, was fired by the sound of Steely Dan's Aja. While standing in the embers of his latest plan, though, he decided that looking backwards always led to a dead end. "If you really want to listen to Desire, you're gonna listen to Desire," he says. "And if you really want to listen to Aja, you're gonna listen to Aja. Having these new records that sound like old records is kind of a novelty. You're just gonna go back to the real thing eventually."
Shauf responded to this realisation by deciding to write a bunch of normal songs – no overarching storyline, no stylistic anchor. Normal songs for a normal record titled Norm. That didn't last, of course. In the finished version, Norm is a man called Norm, an apparently solid dude who, as time progresses, is revealed to be more than a little off. David Lynch's Mullholland Drive was a touchstone for its open-ended narrative, something that challenged Shauf's desire to always wraps things up with a neat little bow.
"There's a scene where there's a key sitting on a table, it stopped and it looked like it was zooming in really slowly," he recalls. "I watched for like three minutes and thought, 'This is so intense, this must have been wild at the theatre.' And then it was five minutes. I was like, 'This is crazy! I can't believe he did this.' And then it crashed. I had been watching a frozen movie for five minutes. It was so dumb. I was like, 'This man's a genius!'
"But the movie crashing really gave me the realisation that what happens in a story is best left to interpretation. The stories that really stick with you are the ones that are going to have enough space for you to keep turning it over in your mind. It told me that I needed to not finish the story. I needed to write it up until a certain point and then have it play out."
Challenge accepted
Equally, Shauf also tried to break apart some of his crutches when it came to composition and recording. If the story can be challenging to the listener, then surely so can the music itself. "I really wanted to take this one into more of a direction of trying to transport elsewhere," he says. "Not necessarily the past, not tape hiss, not tape saturation, just elsewhere, longer reverbs and space and synthesisers, an adjacent world rather than a step back."
This decision created one of a number of intriguing points of tension in the music. Shauf's writing is partly descended from the singer-songwriters of the 1970s (your Randy Newmans, your Harry Nilssons) and so is his staging. He performed every instrument on Norm – growing up between Estevan and Regina in Saskatchewan, Canada, he learned to play on unwanted gear from his parents' music and electronics shop – and his approach is painstakingly detail-oriented: a basement take on the big-budget, fastidious behemoths that roamed the Earth 50 years ago. "I'm the only one whose time is being wasted by re-recording something a hundred times," he says. "I love when every note is exactly where you want it to be."
So far, so familiar. But when it came time to mix the record, Shauf handed his lush suite of atmospheric ballads to Neal Pogue, who has rarely sat still throughout a pace-setting career that spans work with Outkast, TLC, and Janelle Monáe, all the way up to recent collaborations on Tyler, The Creator's Call Me If You Get Lost and Steve Lacy's Gemini Rights. The idea was to make something that was both timeless and of the moment, with a pointed rejection of analogue gear nerdery and gatekeeping.
"I was listening to the Tyler, the Creator records, and I love how big they sound and how much texture there is," Shauf says. "I wanted this record to sound big and clean, but textured. I knew that going through vintage gear was not gonna give me that. The guys who do that, they introduce a certain amount, and then they say anything over that is just degrading the quality or whatever. It's not so much an interest in the sound of it at a certain point as much as it is preserving a tradition or something.
"I wanted Neal to take whatever distortion plugin he wanted to use and use it. I love that he mixes in the box – I wanted his experience and his ability to make things huge and spacious and textured. I wanted to not think about the vintage gear that is so fetishised and not important – we live in a modern age where texture is accessible to all of us."
Image: Angela Lewis
A many-layered thing
There's a reason that Shauf says 'texture' multiple times. Norm is a record of layers, where harmonising clarinets coagulate into mellifluous drones and otherworldly keys carve through with unexpected melodies. Shauf assembled the LP in a manner that has allowed Pogue to bring certain elements to the fore at different moments – languid strumming matching the vocals at the front of the mix one minute, a flute hanging in the air for a second before vacating a zone that's filled by an isolated tambourine. If you're a production nerd, you'll eat it up.
"The guitar is something that I use a lot to write," Shauf says. "But where someone might put a guitar riff, I'll change it into a clarinet riff. My writing doesn't always involve guitar, but I love the texture of an acoustic. I've always loved that jangly thing that's tape saturated or whatever. That texture is something that can't be replaced by anything else—an acoustic guitar is metallic. It sits somewhere in the high end and the high mids that if it's not in a song, the song feels like it has so much space. But if it is in the song, it feels like it's what is nailing it to the ground.
"I use it very rhythmically on this record. When I record drums, I kind of hate cymbals and hi-hats, although those less so because they're not so washy. I have a thing that I really like to try to do that's taken from Neil Young's Harvest, where the best songs on that record have a closed hi-hat, or nothing. The thing that's guiding the rhythm is the acoustic guitar. When they're both in that space, it feels super busy. One of them is unnecessary. On this record, I was trying to leave a lot of space and I was using the acoustic as the cymbals. It's a balancing act with those two things."
Pawn shop power
Norm is dominated by two guitars: a 1973 Gibson J-50 on the acoustic side, and a Silvertone Jupiter with DeArmond silver foils on the electric. "The J-50 is a total beater," Shauf says. "It's a beautiful guitar, but I bought it on Reverb and it showed up with the most horrible musty smell. Playing it was disgusting for months until I took some incense and burned it inside of it. I really love how dreadnoughts record. I've always had small body guitars and there's always this honky thing that happens that you're trying to reach for in the low mids with the EQ, and then you end up with this Swiss cheese guitar sound.
"I recorded the J-50 with an AEA R84 ribbon mic, but mine is sort of broken so it has this weird resonance happening. It was something that in the tracking I would always reach for with the EQ and just pull right out. But when I sent it to Neil he loved how that sounded and emphasised it a little bit. The real fuzzy guitar on Daylight Dreaming is the Jupiter through one of those little white JHS pedals [possibly a 3 Series Fuzz – Ed]."
Norm is a record to be explored with time on your side. Its songs are a knot of contradictions and fakeouts that, on first listen, might be filed away as easy listening. It encourages the rejection of modern music consumption – it is a vinyl and headphones thing, not a playlist thing – while also foregrounding the idea that modern techniques and traditional songwriting are happy bedfellows. It is a story about a man told by someone who knows more than they're letting on. "I do have it tied up in a really neat way if you really want to dig in and find the details," Shauf says. Over to you.
Andy Shauf's Norm is out now through Anti+.
The post "I wanted to not think about the vintage gear that is so fetishised and not important" Andy Shauf on teaming up with Frank Ocean's producer to make a very kind of slow-burn album appeared first on Guitar.com | All Things Guitar.
Source: www.guitar-bass.net