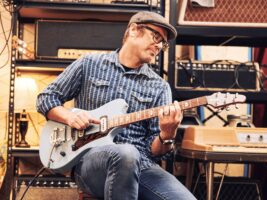 Taylor CEO Andy Powers launches his own electric guitar brand Powers Electric
Taylor CEO Andy Powers has launched his own electric guitar brand, Powers Electric, as he wanted to create a guitar with "a sound and feel that didn't already exist".
READ MORE: "We want to be a guitar company driven by a guitar maker": Taylor's Andy Powers on why he's taking the reins as the company's new CEO
Powers has been the Master Builder at Taylor Guitars since 2014 and rose to being made CEO in May 2022. Powers retained his Master Guitar Designer role in addition to his new duties, but has somehow also found the time to now venture into creating his own electric guitar brand, with the first model – the A-Type – typifies the Californian's unique and innovative approach to the instrument.
Image: Powers Electric
Powers was known for making archtop electrics as an independent luthier before he joined Taylor, but the A-Type is a very different feeling beast entirely –  "Inspired by the lines of classic cars, hot rods, and surfboard design" according to Powers, it's a fully enclosed hollowbody guitar with some interesting new innovations beyond its unique body shape.
The hollow body itself is made of Urban Ash – reclaimed wood made from trees cut down in the process of city construction – trussed with two internal soundposts fitted into a braced, solid maple top – similar to the soundpost in a violin – enabling the front and back to move together, increasing the resonance and sustain of the guitar while reducing feedback.
Image: Powers Electric
The fretboard has a split radius, and is asymmetrical from the bass side to the treble side. The Powers Electric website explains that the treble side is slightly flatter all the way from first fret to the end of the board.
The tailpiece is also an original Powers design. Called the 'CamTail', this 'camshaft' tailpiece and bridge has string ramps individually compensated for tension and gauge, meaning the strings move in pitch unison relative to each other. This, according to Powers, allows you to use your vibrato to get sounds closer to what you might hear with pedal-steel guitars.
Perhaps the most interesting development, however, is the bespoke 'Faraday' pickups. These units, which are available as either 'Partial' or 'Full' options, are a new design that blends modern magnetic structure with an old inspiration, allowing the strings to vibrate more naturally. This, according to Powers, gives two different effects – one emphasising clarity and fidelity (the Full Faraday) and one emphasising tonal warmth (the Partial Faraday).
These pickups are designed to work together and compliment each other, giving the unusual quality of a pickup that both offers a high-fidelity sound without losing any of the warmth that you normally would from hi-fi pickups.
Image: Powers Electric
"I love electric guitars. I've owned, played and worked on all the great ones. There was no need to recreate those," says Powers in a statement. "I wanted something inspired by the best of the past, but with modern capabilities. It took rethinking the entire guitar, absorbing 80 years of guitar evolution, and then taking a fresh approach – with some crazy, modern engineering – to pull this off."
The Powers Electric website states that the Type-A is available in a variety of solid, metallic and burst finishes, with prices ranging from $3,799 to $4,299 – they are available from select retailers including Chicago Music Exchange, Gruhn Guitars and Rudy's Music.
Read our guide to the best effects pedals for praise & worship musicians.
The post Taylor CEO Andy Powers launches his own electric guitar brand Powers Electric appeared first on Guitar.com | All Things Guitar.
Source: www.guitar-bass.net