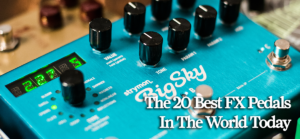 The 20 Best FX Pedals In The World Today
Walrus Audio Jupiter Multi-Clip Fuzz
An articulate and supremely versatile fuzzbox with a range of switchable clipping modes to provide a rainbow of fuzz flavours.
Fuzz has been undergoing a renaissance for a good while now, with all manner of boxes queueing up to mangle your signal – from small-enclosure reworkings of classic circuits to do-it-all multi-fuzz pedals to lavishly emblazoned boutique boxes promising majestic sonic sorcery. But fuzz is a difficult effect both to describe and control; and to define their character, as Walrus Audio points out, fuzz pedals tend to emphasise specific frequency ranges, which can be both a positive and negative attribute.The post The 20 Best FX Pedals In The World Today appeared first on Guitar & Bass.
Source: www.guitar-bass.net