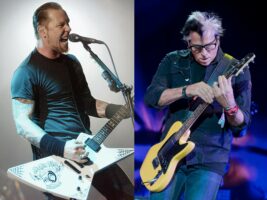 The Offspring used one of James Hetfield's Explorers on Rise and Fall, Rage and Grace
The Offspring's Noodles and Dexter Holland are hardly the first guitarists you'd picture with Explorer guitars. But the pair did use one during the making of their 2008 album, Rise and Fall, Rage and Grace. And it was no ordinary Explorer either. That's because it belonged to none other than James Hetfield.
 
READ MORE: Dolly Parton shares concerns about AI: "I don't want to leave my soul here on this earth"
In a new interview with Guitar World, the guitarist – whose real name is Kevin John Wasserman – recalls their longtime producer, Bob Rock, turning up to the studio with one of the Metallica leader's guitars, which was subsequently used on some tracks.
"Bob brought one of James Hetfield's Explorers," Noodles recounts. "I remember messing around with that for a while, which was different from what we usually used. I don't remember what songs we used it on – it's a heavy metal guitar, so it was certainly a different sound. So, that meant we didn't use it a lot; we added it here and there."
"It sounded just like Hetfield's rhythm stuff and was a bit heavier than what we were used to playing," he adds. "I think I might have done a solo or two with it, but I can't remember what tracks. We didn't use it extensively, but it is fun and heavy. We had to be mindful of using it because an Explorer with EMG pickups is not very Offspring-sounding."
As for the main guitars used on the album, Noodles reveals that the honour goes to "this one guitar we call 'Number One'."
"It's a '64 Gibson SG Jr., with one P-90 in it. We used that more than any other guitar when we were recording," he says. "It's not like we don't experiment, but it seems to be the guitar we keep returning to. I'm sure I used some Ibanez stuff, too. I also recall a lot of my guitars had soapbar P-90s on them around that time, as I'd just switched over to them."
The post The Offspring used one of James Hetfield's Explorers on Rise and Fall, Rage and Grace appeared first on Guitar.com | All Things Guitar.
Source: www.guitar-bass.net