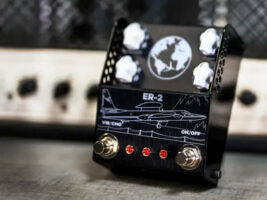 Thorpy FX's new ER-2 offers a twist on the classic Uni-Vibe pedal
Thorpy FX mastermind Adrian Thorpe has offered his latest take on the Uni-Vibe pedal with the newly released ER-2. The unit — named after NASA's high-altitude, earth-observing ER-2 aircraft — is described as "a Uni-Vibe for those that want the swoosh without the loss of low end, for those that like control without complexity and for those who need massive sound with pedalboard friendly size."
READ MORE: Devin Townsend says The Beatles would have used digital gear: "How can you imagine for a second that they wouldn't have utilised it?"
One thing's for sure: the ER-2 is no regular Uni-Vibe. For one, aside from your regular Intensity, Speed and Volume controls, the ER-2 has an Offset control, allowing you to tailor your Uni-Vibe sound to your preference by subtly changing the way the lamp inside ramps up.
Thorpy has also added a second footswitch to the ER-2, allowing players to easily switch between the pedal's two voices (Vibe and Chorus).
The result? A "decade-spanning 'vibe' modulation that enables you to sound like as many of the iconic records that use the effect as possible," says the brand, adding that this version of the classic Uni-Vibe is improved "in scope, quality and fun-to-use factor".
On the outside, the pedal comes in a glorious technicolor black/blue midnight sparkle powder coat finish, and is designed to be robust but functional with recessed knobs, sloped front and top mounted jacks.
Priced at £299, the ER-2 is now available for purchase at the Thorpy FX website.
Listen to the pedal in action below.
The post Thorpy FX's new ER-2 offers a twist on the classic Uni-Vibe pedal appeared first on Guitar.com | All Things Guitar.
Source: www.guitar-bass.net