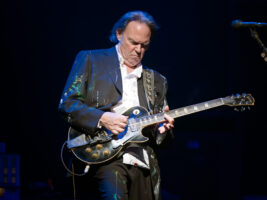 The story of Neil Young's "Old Black"
It is often said by guitarists that their instrument is an extension of their body. It's true that some artists have a special bond with one specific instrument – we think of Willie Nelson and Trigger or Brian May and his Red Special. Some artists are irrefutably linked to their instruments.
READ MORE: "People have told us that we're doing everything wrong" Marissa Paternoster on why Screaming Females keep ignoring conventional wisdom at every turn
Since Neil Young acquired the guitar from Jim Messina in late 60s, 'Old Black' has been a staple of Neil's iconic sound. Of course, it isn't the only guitar Young has played in his career, but it is certainly the most famous in his stable of instruments. This guitar has presented tone chasers a great deal of oddity and mystery to contend with as they try to emulate Young's trademark sound. Here's the story of one of rock's most hallowed instruments.
Image: Stefan M. Prager / Redferns
Young traded a Gretsch 6120 Chet Atkins to his Buffalo Springfield bandmate, Jim Messina for "Old Black" in late 1968 or early 1969. The guitar was used by then, of course. "Old Black" began its life as a 1953 Gibson Goldtop but was painted black prior to Neil acquiring it. Per 1953 specs, it would have come stock with a trapeze style bridge and tailpiece and two cream coloured P-90 pickups. At some point a Bigsby B3 was added along with an ABR-1 bridge
The pickups in the guitar were, for years, the subject of debate among tone chasers. We now know that the neck pickup is an original P-90 and the bridge pickup is a mini-humbucker out of a 1972 Gibson Firebird. It didn't last long in the Firebird either, as that pickup was installed in Old Black in 1973. Neil experimented with a couple pickups in the bridge before settling on the Firebird – most notably, a DeArmond.
Image: Paul Natkin / Getty Images
When Neil got the guitar, the neck allegedly had a Grestch Dynasonic single-coil pickup fitted. Both pickups have since been fitted with aluminium covers. The pickguard was also replaced with an aluminium one, although there is some debate over whether it is aluminium or Chromed Brass/Bronze. The guitar has several metallic add-ons which some people contribute to Neil's infamous feedback sound.
There has also been some speculation about the year of Old Black's neck. It has a partially painted-over pearloid inlay on its headstock that appears to be a "wheat stack" rather than split trapezoid style. The "wheat stack" inlay was applied to Gibson necks made between 1961 and '68. Les Paul headstocks are an infamously weak component that can be very prone to breakage. Generally, headstocks can be repaired with very little issue, but sometimes a break is so bad that the entire headstock will have to be replaced. This is actually not as uncommon as you might think. Another option would be to replace the entire neck all the way down to the joint at the body. Rest assured, there are vintage Les Pauls out there with both of these repairs.
Image: Aaron Rapoport / Corbis via Getty Images
Other notable modifications include a Tune-O-Matic bridge and a Bigsby B7 Vibrato – the B7 was installed around the same time the Firebird pickup [1973]. The pickup is said to be very microphonic which may indicate that it is not wax-potted. We know that Gibson did not wax-pot their pickups in the 50s and 60s so it is completely possible that they were still un-wax-potted in 1972. There is a chunk of aluminium screwed to the back of the guitar, which allows access to the bridge mounts from the back of the guitar. The Tune-O-Matic Bridge wasn't a stock option on Gibson Goldtops until 1955, so that too, was an aftermarket add-on. This was most likely added at the same time as the Bigsby. There is also a toggle between the Volume and Tone adjustment knobs that has befuddled fans for years. It was added, again, around 1973. It was often assumed to be a coil tap. However, we've come to learn that this is actually a switch that allows Neil to bypass the pot and capacitors and allow his signal to flow directly from his pickups into his amp.
Image: Frans Schellekens / Redferns
The guitar is what you'd call road-worn, and it wears the scars and ageing with the same poise and grace that Neil does. Neil refuses to change out the frets or the strings until one breaks. It has remained pretty much unchanged since 1973 aside from the addition and removal of a "Santa Cruz" sticker in 1977 when Neil joined a short-lived group called The Ducks who gigged around the Santa Cruz area during the summer of '77.
The care of Old Black has long been entrusted to Neil's guitar tech, Larry Cragg. Cragg started working on Neil's guitars in 1972 and was responsible for most of the modifications. Cragg has always maintained the stance that Old Black doesn't sound like any other guitar and he's not wrong. Crazy Horse guitarist Nils Lofgren does have a '52 Goldtop that he bought with the intention of being able to use it on songs that Neil plays piano on, but he has noted that his guitar sounds nothing like Old Black. Whether it is the way Neil plays or the guitar or some magical combination of the two, even those who have attempted to replicate Old Black are still unable to nail down the iconic tone the pair produce.
Image: Dimitri Hakke / Redferns
Old Black and Neil are not the only variables, of course, he also relies on a modified Fender Deluxe that has been re-biased to take 6L6 tubes. He has also been using a 'Whizzer' since Rust Never Sleeps in 1978 which is an incredibly interesting unit that physically turns the amp's knobs. Neil came up with the idea, and, his amp tech, Sal Trentino, made the first one. There are some other obscure fine points regarding Neil's signal path, but it all starts with that combination of his hands and Old Black. At this point, the mystery of Old Black's unique sound has very much become part of the legend.
For more features, click here.
The post The story of Neil Young's "Old Black" appeared first on Guitar.com | All Things Guitar.
Source: www.guitar-bass.net