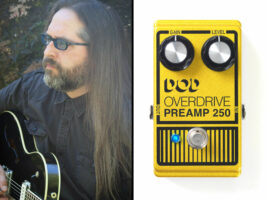 "There's no path that leads you to owning a yacht – If you're thinking rationally, you don't go into pedals": An interview with DOD/DigiTech legend Tom Cram
April 2022 was a bit of a wild ride for fans of DOD and DigiTech. It was then the two closely-linked pedal brands were officially dropped by their parent company Harman. This was four years after Samsung purchased said parent company, and effectively shut down all of DOD/ DigiTech's operations. So for a short while, it was safe to assume that this was the final nail in the coffin, one filled to the brim with legendary pedals: The Whammy. The Overdrive Preamp 250. And who could forget our dear Gonkulator?
READ MORE: DOD officially returns with refreshed OD 250, and Tom Cram is back in the fold
One of the many who assumed that they had just heard DOD/DigiTech's death knell was Tom Cram. Cram was instrumental in resurrecting the brand in the early 2010s, bringing about a renaissance era with plenty of updated legendary designs. He was also behind a swathe of modern classics such as the Ricochet, the Drop, The Carcosa and the Rubberneck (to name just three).
When the news of Harman dropping DOD/DigiTech broke, the pedal community turned to him. But after a dramatic crash-zoom, Tom shrugged to the camera, and urged scepticism as to another successful DOD/DigiTech revival. "When I first heard about the sale, I didn't know who it was. I had assumed it was just another big corporation, like MusicTribe or something like that," he tells us over a video call from his well-stocked pedal workshop. "My initial reaction was that it doesn't matter: all the engineers are gone, it doesn't make any difference."
Pedal fans initially shared his scepticism. Without the person who had spearheaded its revival, what made the new DOD/DigiTech special? It seemed that Samsung had dealt the killing blow in 2018, and Harman had just sold the corpse onwards. Of course, it only seemed like that. You already know that's not how the story ends: here we are, talking to Tom about how he's back in charge of the brands. So what changed?
"I found out it was CorTek," Tom says. "That was later. I'm like, wait a minute, they're all guitar players, they're a private company – this is different. My initial reaction was negative. And then I found out who it was, and it became a lot more positive."
While Tom's feelings on the matter changed, he didn't immediately enter talks to get involved with the brands again – he was busy with his own brand Spiral Electric FX, which he had started after the Samsung incident in 2018. But, as Tom tells us: "One of the first things that Jun Park from CorTek said to me was that he wanted me to keep doing Spiral. He knows that it's really important to me. I don't know how it's gonna work, it's gonna be weird. But I'm used to weird."
An upward Spiral
Being able to keep Spiral Electric going was part of what convinced Tom to come back in full. He's starting a new chapter in his extensive history with DOD/DigiTech, one that doesn't just begin with the revival in the 2010s. We asked Tom to give us the Cliff-notes version of his almost 30-year-long time there.
"I started at DigiTech and DOD on the manufacturing floor around 1995, 1996. Then I moved into material handling, which is basically just bringing parts and stuff that people who are building. Then I moved into sound test, and then into DOD marketing. That was the big change, going from the manufacturing floor to somewhere I actually had some participation in the process. One of my first jobs there was the transition from the older FX series stuff in the 90s era to the two-tone stuff. My title back then was marketing-comms specialist, so I worked trade shows and stuff like that, and was part of multiple teams doing product development.
"But then I moved all the way out of guitar stuff to doing Tech Support for DBX, the pro-audio portion of Harman. Then I moved to a division called SDIG, the software division. That created all the software to run huge stadiums, the giant PA installations and stuff like that.
"I then heard through the internal grapevine that DigiTech and DOD were looking for a new artist relations person – I've been in bands my whole life, and I've toured, so I have a lot of connections and I know a lot of artists, so it kind of made sense to me. And I was at a point where I was a little tired of pro audio, I wanted to go back to guitar stuff. I lobbied for the job and got it, that was around 2010."
And here's where we reach the crucial turning point in the story – Tom's work with DOD and DigiTech across the next eight years would be the reason we're all so excited to have him back on board. But it wasn't smooth sailing: he was doing this amidst a volatile corporate atmosphere. "From 2010 to 2018. There were a series of reorgs and management shake ups – and just through honest-to-God sheer chance, I just happened to be the last man standing in all of the fallout.
"I started talking about the resurrection of DOD in late 2010, early 2011. But I didn't get a chance to do anything about it until late 2011 or 2012. The new DOD/DigiTech stuff was introduced to the market in 2013. From that point on, I was very deeply involved, and then eventually got to be in charge of product development, and later in charge of the brand."
Across this period Tom would build up an amazing amount of momentum for DigiTech and DOD: countless pedal releases new and old, and none of them being just 'another overdrive pedal.' The brands both seemed unstoppable, and of course, the universe (in the form of a gigantic electronics company) took that as a challenge.
"Right at the point where I was feeling like we were firing on all cylinders – this was 2018, the Rubberneck had just come out – that's when Harman was sold to Samsung. That spelled the end of the DigiTech and DOD experiment. Samsung bought Harman for their automotive and consumer division. And so the MI portion, DigiTech and DOD in particular, were not something they were interested in."
And that was the end, for a while. The rapid flywheel of DOD and DigiTech production started to wind down – everything discontinued in all but name, and staff unceremoniously fired, moving onto other projects such as Spiral.
You know the rest. Cut back to February 2023: Tom's first order business is getting that wheel turning again. "We're reviving as much as we can – we're still having some supply-chain issues with a few things. But all of the analogue DOD stuff is coming back, the Rubberneck included. The Whammy, the FreqOut, the Ricochet, the Drop, those are all coming back. For stuff that has parts issues, we're trying to resolve them."
Unsurprisingly, given the current supply-chain crisis affecting DSP chips the digital side of things is the hardest to get going again. "We're having some pretty serious parts issues with the DigiTech Single stop effects: the Obscura, Polaris, Ventura, and the Dirty Robot. They'll take some time if they come back."
Getting the band back together
Unlike Spiral, DOD/DigiTech was never a one-person operation, and for the 2023 iteration, it's not just Tom Cram that's back in the fold. A veritable who's-who of DOD/DigiTech engineers have picked up the soldering iron again. "We have Jim Pennock, Roger Johnson, Matt Calder and Parker Coons as well as some of the South Korean guys – but the engineer guys that are local, they're all from different eras of DigiTech and DOD," Tom explains. "They, like me, moved on to other stuff. Jim Pennock worked for DOD back in the day, but he moved on to the engineering side of the pro audio stuff. Roger Johnson, he worked with Jason Lamb on the whole series of pedals with goofy names, all the classics like the Meat Box, the Gonkulator.
"And then Parker Coons, he worked on the Rubberneck and the Carcosa with me. And Matt Calder is an interesting case, too: he was one of DigiTech and DOD's clinicians, and in the downtime between Samsung and CorTek he went back to school and got his electronics engineering degree. So he was a demo guy that has now become an engineer. The way Jim Pennock describes it is: we're getting the band back together. And it really is like that. All of the old players are coming back and getting this thing going again."
Having had to move from a big team to a one-person operation with Spiral, Tom has some perspective on the wider way the pedal world works. It's a unique thing, in many ways: on a pedalboard, something made in a gigantic factory can be only a patch cable away from something made by hand at a kitchen table.
"I can't think of a whole lot of other endeavours that are like that," says Tom. "Maybe in some portions of the art world – my wife's a potter, so I'll use that as an example. You can have stuff made by a potter that makes stuff all by hand, one that digs up their own clay, you know, sitting on a shelf next to something that's mass produced. So there's some corollaries in the art world. But one of the coolest things I think about the pedal world is, you know, and this is very evident when you go to a NAMM show or something like that. You'll have, you know, some of the guys from the bigs: MXR, EHX, hanging out with a guy who makes stuff on his kitchen table. I had a chance to talk with Mike Matthews face to face at one of my very first NAMMs. I was nobody. And so, you know, that's one of the coolest things about our quote-unquote industry."
Image: Spiral Electric
That's not to say, of course, that Spiral's world of boutique handmade fuzzes is going to immediately compete with the output of DOD/DigiTech. "Those markets are automatically split according to price. When we're talking about analogue single-stomps, the guy who's looking at a Carcosa is, most likely, not going to be also looking at the Black Spiral. The price points are just too different. There's overlap, don't get me wrong. I mean, I have customers that are fans of both. But you also have to consider the volume of output– I am a one-man shop with Spiral. I can only make so much. I'm at my limit right now, actually. So it's not like suddenly I'm gonna go mass-production with Spiral and, you know, compete directly with DigiTech and DOD.
"That's the market part of it. As far as the conceptual part of it, the resources available to me, with the engineers and the team I have now with DigiTech and DOD is lightyears beyond what I can do with Spiral. Spiral is stuff that I come up with. DigiTech and DOD is stuff that I come up with, but also the team comes up with, or engineers that are real engineers come up with. And I can come up with a more hare-brained idea for DigiTech and DOD and actually turn it into something because I have that help. If I come up with a hare-brained idea for Spiral, I have to do it, and I have to execute it and research and figure out how to do it."
Turning point
The 2010s DOD/DigiTech resurgence can kind of be traced back to one specific pedal, an Overdrive Preamp 250 that Tom had modified by himself. He showed this to the higher-ups, who asked, 'why aren't we doing this on a bigger scale?' – and so, the 2013 OD 250 was born.
We're curious about what specific mods Tom made that led to it being so convincing. "It was all practical stuff," Tom says. "I've been a 250 fan forever, I've had a variation of a 250 on my pedalboard going all the way back to when I played bass. Because of the nature of a 250, the more you increase the gain, the more bass it cuts – but if there's a sweet spot for bass guitar, where you get that grind but there's still low-end.
"The point being: I've messed with the 250 circuit a lot over the years. All the way from practical stuff to very impractical stuff. The mods that I made on the pedal that I showed when I wanted to resurrect DOD, they were all practical. Changing the footswitch to make it true bypass. Adding an LED. Changing the power jack from that eighth-inch jack to the modern Boss-style jack. That's all that stuff that made it into the 2013 version of the 250.
"That being said, there were some very small things on the circuit that changed. Some of them being changes that I made, and some of them just because of the way we made it. I wanted to allow a little bit more bass through it, so I changed the value of the input cap, just slightly. But that was because that matched my favourite vintage 250: I've seen online people saying that there's a little bit too much bass and it doesn't sound like the original ones. Well, it does, because the originals all sound different. And my example 250 had a little bit more bass, and I love it.
"Other than that, the tapers of the pots are just a little bit different because of the parts that are available now, and the tolerance of the parts in the pedal itself are tighter. The 2013 250 is closer to the original spec for the 250 than was possible at the time. So those small changes all kind of add up. So that the 2013 250 – even though it uses the same LM 741 chip as the vintage one – is going to sound a little bit different, just because of reality.
Vintage 250s had parts tolerances of 20 per cent. In practice, that means that if the original schematic calls for a 100k Ohm resistor, the one that ends up in the actual pedal could be anywhere between 80 and 120k Ohms. Same for capacitors, and potentiometers. And so any given 250 could have a wildly different sound from the next. "I have a collection of like 15 250s ranging from the grey one up until the later 1990s stuff," Tom says. "They all sound different. They all sound like a 250, but it's like, lemon yellow and mustard yellow are still both yellow."
Tom's love of the 250 did, of course, make its way to Spiral Electric FX. "A lot of my experimental stuff with it became the Yellow Spiral. And I just released a limited-edition pedal called the Aleph – that's basically some really radical experiments with the 250 platform to turn it into a fuzz. So there is a lot of weird stuff you can do. But if I had come out with the 2013 250, and it had sounded like the Aleph – that would have been a bad thing."
To turn a 250 into a Fuzz, Tom explains, you need to commit a little bit of blasphemy. "If there are any DIY'ers that read this, if you make the changes I made in the Aleph to an LM741 250, it won't work," Tom says. "It has to have an LS351, as that has a bias control. There are some ways to make an LM741 misbehave, but it's a lot easier with an LS351."
Image: Spiral Electric
Forum-crawling
If you've ever looked into DIY pedal modding or building, or even just Googled whether you should buy pedal A or pedal B, you might have stumbled across some rather heated forum conversations about op-amps, transistors or similarly niche aspects of the gear. It's easy to dismiss this as needless, but for someone like Tom, that kind of attention to detail has its place. "In some cases, it's actually legit," he says. "And let me clarify why I think that is: if you're making a clone of a Rat, then it has to have an LM308 in it. You can make a similar sounding pedal with a different IC in there. But if you're making a clone, and trying to reference the lineage of the Rat, you've got to have a certain part. For me, with the Overdrive Preamp 250, as far as I'm concerned, it has to have an LM 741 op-amp in it, even though my favourite op-amp in the 250 circuit is an LS351. That kind of stuff I get."
"But when you're trying to do something new, when you're trying to break new ground, all that stuff is meaningless: It's completely irrelevant. It's what you end up with in the end that matters. That's one of the reasons why I want to do new stuff with DigiTech, and DOD in particular, when it comes to analogue stuff, the nostalgia thing, the period correct parts – that's a trap. Or, it's a dead scene. You can never make it sound like it. The part tolerances are different. People's memories make things sound different. You can only go so far down that path – and you have to be able to make new stuff."
We're curious as to what that 'new stuff' might look like. It's early doors for Tom to share any specifics, and of course the focus right now is on getting the wheels turning again. But there is good news: "I had a roadmap back when we got shut down. And so it doesn't take a lot to jump back on that path. As I'm talking to you, up here on my desk, I have prototypes, sitting there from when we got shut down. So as soon as I am able, I'm going to shift gears and start making new stuff again. That's my thing. I love making new stuff."
As is perhaps essential for pedal-building, Tom views the R&D process as much more of an artistic endeavour than a pure engineering one. As he puts it, "thinking about it from a pure electronics standpoint, you're trying to make stuff that works correctly and efficiently. If you're making pedals from a musician's standpoint, you're breaking shit. And those are two very different things."
"I think of it as making art supplies. I'm helping inspire a guitar player to write a cool song. I always say there's a riff in every pedal. My hope is that spark that inspired me to make something continues on to be a spark that helps an artist create something. That connection, I think, is strong. And that's why I try not to cast the guys on forums delving into minutiae as a negative – I try to keep perspective.
"What it means, ultimately, is that they care. They give a shit. You're not going to find people giving that much of a shit about a can opener. Well, maybe there's some guy who's really passionate about can openers, but the more universal thing in the guitar market is, guitarists really give a crap about stuff like this. And that's a positive thing."
Very Punk Rock
Tom's musical origins, unsurprisingly, predate his work at DOD/DigiTech. His origin story will likely be pretty relatable for those reading: "A friend of mine started a band, and they needed a bass player, so he said, 'hey, can you come play bass.' I didn't even know what a bass was, or anything about music. So, very punk rock. I found a used Hondo bass, and one of the most terrible amps you can think of. He taught me some changes, and a few weeks later we're playing a show at our high school. So thrown right in the fire. Even then, I didn't know I wanted to be a musician. I just did it because it was fun – pure 'music' as a passion wasn't even there for me then.
"Years later, that changed and, you know, I decided I wanted to be a full time musician. But when did I want to become a pedal maker? That didn't happen by a decision either, it just kind of happened. From learning how to build stuff, working on the manufacturing floor, and then moving into, you know, different divisions, learning how the process works, that inspired me to experiment with stuff. So I taught myself how to modify pedals. And I taught myself some basic electronics – but I also learnt a lot from the engineers that I was around. Either by osmosis or actually going directly to them and saying 'how does this work?'
"But it was never really a conscious decision, me saying 'I'm going to become a pedal maker.' The only time I had to be decisive about it was after the whole Samsung buyout, when they shut us down. I was like, okay, I need to do something, and I know how to make pedals. So that's when Spiral was born. That was the very first conscious decision."
As Tom explains, for many that 'conscious decision' isn't made when you're motivated by sensible things like stability and money. "If you start your life and decide you're going to be an engineer, and you go to school to become an actual 'real electronics engineer,' the options you're looking at for a career 99 times out of 100 are not in the pedal industry. Truth be told, there's not a ton of money in pedals. There's no career path that leads to you owning a yacht. If you're thinking rationally about your career, going into pedals is not the right choice."
But, you're reading this interview on Guitar.com, not Forbes. Where would we be, where would you be, without career choices motivated by a love of weird fuzz pedals, rather than yacht ownership?
Keep up to date with DOD/DigiTech's new releases over at digitech.com, and right here at Guitar.com.
The post "There's no path that leads you to owning a yacht – If you're thinking rationally, you don't go into pedals": An interview with DOD/DigiTech legend Tom Cram appeared first on Guitar.com | All Things Guitar.
Source: www.guitar-bass.net