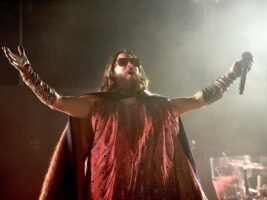 Thirty Seconds to Mars announce first album in five years, hear new single Stuck right now
New music from Thirty Seconds to Mars is finally here after the Leto brothers reunited for the first time in half a decade.
READ MORE: David Ellefson calls Dave Mustaine "fucking pathetic" for "still bitching" about his exit from Metallica
On social media yesterday (8 May), Jared and Shannon Leno announced that they will release their first album in five years. The duo also unveiled their first track from the album, Stuck.
The long-awaited album is named It's The End Of The World But It's A Beautiful Day, and is due for release in mid-September. It is available to pre-order now.
Alongside the new track, Stuck, the band has also released a music video. In true Leto artsy fashion, it features both siblings singing into the camera in black and white, before it cuts to visuals of a woman licking her foot and a snake slithering over her body.
This is before the video takes a turn and shows numerous dancers (as well as the brothers) in colour while in contorted and twisted positions.
You can watch the music video below:
Speaking about the video on Instagram, Jared Leto says that thanks to their mother, he and Shannon "were instilled with a love for art and photography from a very young age".
"The video for Stuck, our first new song in five years, is a love letter to some of my favourite photographers," he continues. "Artists who made a very deep impact on me like Richard Avedon, Irving Penn, Robert Mapplethorpe, Diane Arbus, Herb Ritts and more. Artists whose work changed the way I saw things and showed me new possibilities at every turn."
"It is a love letter to the power of movement and connection, a testament to the awe-inspiring potential of people who don't necessarily fit so neatly in – but make the world so much more fascinating".
Stuck is available on streaming platforms now.
The post Thirty Seconds to Mars announce first album in five years, hear new single Stuck right now appeared first on Guitar.com | All Things Guitar.
Source: www.guitar-bass.net