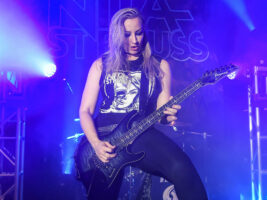 This is "one of the most exciting guitar players" in the game today, according to Nita Strauss
Nita Strauss, whose freshly released solo album The Call of the Void features a sizeable helping of rock royalty – including Alice Cooper, Marty Friedman, and Lzzy Hale – speaks to Loudwire in a new interview about some of her favourite guitar-wielding musicians over the past decade.
READ MORE: Dave Mustaine "hated" improvisation in Megadeth songs, says ex-guitarist Chris Poland
First on the list is American virtuoso Angel Vivaldi, whom Strauss describes as "one of the most exciting guitar players": "Style and swagger meet undeniable technique," she says. "I truly think Angel is one of the most exciting guitar players to watch and his diversity in style is mind blowing. Plus, you can't talk about Angel without mentioning the massive strides he's making towards creating inclusivity in the guitar scene."
The guitarist then names prog-rock outfit Polyphia's Tim Henson and Scott LePage, highlighting in particular their "undeniable" impact on the guitar community.
"I hate to lump two such great guitar players in with each other," Strauss begins. "But I needed room on the list and what these two are doing for the world of guitar playing is absolutely undeniable. There aren't a lot of people you can truly say are changing the game, and they are."
In other news, Strauss recently voiced her love for digital amp modellers, saying oftentimes, "no one could tell" the difference between that and the real thing.
The musician revealed that her new album heavily features the use of digital gear and VST plugins, and that she's personally "extremely satisfied" with taking things digital.
"If I didn't think it sounded as good I would have redone it through real amps," she said, adding "I don't think it would have made the record sound any better if I had re-amped later through an analogue machine."
Strauss also recently recounted her experience working with former Megadeth man Marty Friedman on a track on her new album, The Call of the Void.
Calling Friedman a "perfectionist", Strauss said: "What an honour for me as a musician and as a music fan. It's not every day that you have an opportunity to have feedback and critique from somebody you respect so much."
The post This is "one of the most exciting guitar players" in the game today, according to Nita Strauss appeared first on Guitar.com | All Things Guitar.
Source: www.guitar-bass.net