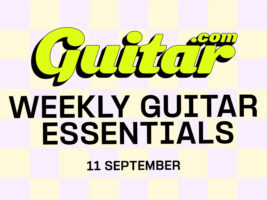 This week's essential new guitar tracks playlist – Sprints, The Rolling Stones, Marnie Stern and more
Welcome to Weekly Guitar Essentials – your roundup of 10 of the best new guitar-driven tracks from the past seven days, from the biggest names to some artist you might never heard before, this is everything you need to keep your finger on the pulse of guitar culture.. You can follow the playlist on our Spotify, or check out each track in more detail below!
Sprints – Up and Comer
The Irish post-punk scene has been spawning out fantastic bands of late – from Fontains and Silverbacks to Pillow Queen and Girl Band. Sprints are the latest talky-singy cab off the rank, but the Black Flag-aping cyclical riff of //Up And Comer// isa different kind of catchy than some of their peers and forebears. 
 
Green Lung – Maxine (Witch Queen) 
Turning our dial all the way back to 1968, London stoner-doom outfit Green Lung approach their revivalist heavy metal with a level of retro-worship that sounds like it could have been pulled straight out of a Deep Purple support slot. That is absolutely a compliment. 
 
Hotline TNT – I Thought You'd Change
Will Anderson might well have carved out his own multi-hyphenate genre with bedroom-shoegaze-emo project Hotline TNT. With heavily saturated guitars that veer between wall-of-sound squalls and pop-punk catchy riffs, I Thought You'd Change has us very excited about the imminent debut album. 
 
The Gaslight Anthem – Little Fires
This is the third single from the imminent return of Brian Fallon and co's after nearly a decade apart, and once again it shows time hasn't dulled The Gaslight Anthem's urgency. With an endlessly hummable riff, a plaintive and impassioned Fallon vocal, and a singalong chorus, the New Jersey band are back to their best. 
 
Marnie Stern – Plain Speak
Perhaps the most interesting guitar return of 2023 is that of Marnie Stern – a decade ago she was carving out a name as one of the most innovative new guitar players in the indie-rock scene. Then she took the steadier and more predictable gig of the guitarist in the Late Night with Seth Myers 8G band while also raising a family. Now however, Stern is back, and Plain Speak is an exhilarating return – all chewy riffs, rhythmic tapping and woozy time signatures, it speaks to the return of a real guitar force.  
 
Teen Jesus and the Jean Teasers – Salt feat. The Grogans
The Aussie upstarts team up with Melbournites The Grogans on a track that feels precision engineers to soundtrack an important moment in a 1990s teen comedy – and once again, we mean that in the most complementary way imaginable. 
 
Melin Melyn – I Paint Dogs
Bilingual Welsh psych-twang-pop outfit Melin Melyn are signing in English rather than their native tongue for this latest gives those who don't siarad Cymraeg to get a window into their unbelievably weird but undeniably catchy country-inflected world. "I'll paint dogs up and down the country, so that I can be free…" sings Gruff Glyn as things graduate from delightful pedal-steel country to a full-on psych wigout. 
 
The Rolling Stones – Angry
Have you heard of these guys? You never know, but we have a feeling this hip young trio might have the minerals to go places. Of course, it's the bloody Stones – you know what you're gonna get, and yet there's something undeniably thrilling about a new slice of bona-fide rock 'n' roll from the Jagger/Richards hive mind. 
 
A.A. Williams – Without You I'm Nothing
A brooding, atmospheric cover of Palcebo's 1999 single is exactly the sort of thing we'd expect the London guitarist to the original, but that doesn't make this majestic and compelling reworking any less enjoyable. 
 
Code Orange – Mirror
Reba Meyers has made a habit of confounding expectations over the course of Code Orange's career, so we shouldn't be surprised that the metalcore titans' new single is a moody, sombre acoustic ballad with a backbone of powerful guitar at its core – a bold new direction or a more substantive shift? Time will tell. 
 
Listen to the full playlist here:
The post This week's essential new guitar tracks playlist – Sprints, The Rolling Stones, Marnie Stern and more appeared first on Guitar.com | All Things Guitar.
Source: www.guitar-bass.net