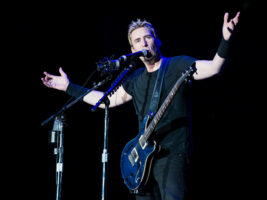 Chad Kroeger is done with being asked why the world hates Nickelback "every single day"
Questions about Nickelback's negative reputation will no longer be entertained moving forward, says frontman Chad Kroeger, who's totally "over it".
READ MORE: "There are King Crimson fans who have been outraged at my conduct!": Robert Fripp on the response to his Sunday Lunch YouTube covers
Nickelback recently presented their Hate to Love documentary at the Toronto Film Festival, during which they were asked – yet again – about the backlash the band has received over the years.
Ready to lay the discussion to rest once and for all, Kroeger told reporters in no uncertain terms: "I'm over it." [via People]
"If somebody stuck that thing in your face every single day and said, 'The whole world hates you like this, the whole world hates you. What do you have to say about that? Every single day. Every day. Would there be reluctance on your behalf to talk about it? Would you get pissed off? Would you be over it after a while?" he asked.
"We made a documentary, everybody can watch it," Kroegar said, adding, "And now from this day forward, if anybody asks that question in the press, it's like that's the end of the interview."
"So if you want to end an interview, that's all you have to say and that will be it."
Earlier this year, the Canadian rocker said that he's noticed a "softening" in people's negative opinions of Nickelback lately, and that he thinks it could be because they have received "a ton of love on TikTok" or other social media platforms.
"That kind of used to be a thing," Kroeger told KFMA-FM radio. "I shouldn't say 'that kind of used to be' – that was definitely a thing for a long time. And I think there's been a softening – there really has, thankfully. I'm not sure if it's because we receive a ton of love on TikTok or whatever the hell it is, but for whatever reason the teeth have kind of been removed. It's really nice, it's really nice to not be public enemy number one."
The post Chad Kroeger is done with being asked why the world hates Nickelback "every single day" appeared first on Guitar.com | All Things Guitar.
Source: www.guitar-bass.net