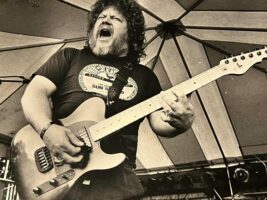 Tim Bachman, guitarist and co-founder of Bachman-Turner Overdrive, dies aged 71
Tim Bachman, Canadian guitarist and co-founder of the rock band Bachman-Turner Overdrive, has died aged 71.
The announcement was made by his son Ryder on Friday (27 April), after Bachman passed due to complications with cancer.
"My dad passed this afternoon," Bachman wrote on Facebook. "Grateful I got to spend some time with him at the end. Grab yer loved ones and hug em' close, ya never know how long you have."
My Dad passed this afternoon.Thank You Everyone for the kind words. Grateful I got to spend some time with him at the end. Grab yer loved ones and hug em close, ya never know how long you have
Posted by Ryder Bachman on Friday, April 28, 2023
In a previous post, Ryder revealed that he received a call from the care unit where his father was being looked after, to tell him to "hurry, come say goodbye to him and pay [his] last respects".
Since the initial announcement, Ryder has shared several images of his father, as well as his final words, which were "I love you Paxton. Share the music." As a result, he held an intimate outdoor concert over the weekend at his father's honour.
Howdy Thinking about my Dad this morning. The last words he said were, "I love you Paxton, Share the Music" and so…
Posted by Ryder Bachman on Saturday, April 29, 2023
Bachman-Turner Overdrive, commonly known as BTO was founded in Winnepeg, Canada in 1973. The band was established by Bachman and his brothers Randy Bachman and Robin Bachman. The latter of which passed away earlier this year at age 69.
Tim performed on the band's first and second album, but departed from the band in 1974 reportedly due to Randy's strict rules on the road, prohibiting drugs, alcohol, and pre-marital sex on the road.
A series of lineup changes, including Randy's departure in 1977, resulted in Tim re-joining BTO until 1986. The band then re-reformed in 1988 with Randy yet again, but Tim chose not to partake.
The post Tim Bachman, guitarist and co-founder of Bachman-Turner Overdrive, dies aged 71 appeared first on Guitar.com | All Things Guitar.
Source: www.guitar-bass.net