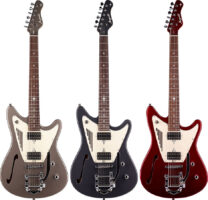 Rosetti Announce New Magneto Starlux
Rosetti are pleased to introducing the Starlux, a brand-new design from Magneto which brings the spirit of the 50s into the 21st century.
Supplied with Magneto gigbag and available in Sunset Gold, Midnight Silver & Candy Apple Red with an SRP of £849. Features include:
A semi-hollow basswood body for improved body resonance.
A bone nut and retro style vibrato which offers a rich and lively tone, which is especially apparent when playing the instrument unplugged.
Contoured body outlines, designed to offer a perfect playing position.
Low weight semi hollow construction, weighing on average around 3.6kgs(7.9 lbs.).
Classic Twin humbuckers which offer a wide range of tonal possibilities, crossing the boundaries of conventional retro style guitars.
3-piece hard maple neck for enhanced stability and tone.
Rosewood fingerboard with Magneto Starlux inlays.
A roller saddle bridge for enhance tuning stability with Vibrato.
Supplied with Magneto gigbag.
Available to pre-order now – Late June ETA for Sunset Gold and Midnight Silver.
www.Rosetti.co.uk
sales@rosetti.co.uk
01376 550033
More info: https://www.rosetti.co.uk/catalogsearch/result/?q=starlux
About Magneto
Magneto Guitars was born out of passion, friendship, and the dream to create a level of quality never before reached in guitar manufacturing.
After 20 years of experience in the field of electric guitar design and manufacturing, Christian Hatstatt decided to create a new line of high caliber instruments that would appeal to the most discerning musicians.
The input of top guitar players and years of workshop repair helped to set a foundation for new ideas.The development of the first instruments was completed in September 2008. One month later, Christian joined forces with his old friend Kei San and a team of the world's finest luthiers, and Magneto Guitars was born.
Within a couple of years, Magneto Guitars has become the guitar of choice for many recording and touring musicians all over the world.
All instruments are designed and handbuilt in one and the same place, a place where luthiers and musicians meet to create the Magneto Artistry.
The original idea behind the Magneto guitars was to create and build superior instruments by preserving the original guitar manufacturing process. As opposed to a mass production approach, Magneto Guitars are handmade by highly skilled luthiers. Along those same lines, we exclusively use the highest quality parts that undergo very strict quality and environmental controls.
At the time we began our first design and prototypes, we put a lot of time into the research of the perfect shape: the idea was to improve both tonal balance and ergonomics. Our experience in design has proven that putting the right amount of wood in certain key areas and letting them vibrate would definitely improve the instrument's tonal balance and would also avoid dead spots, which is still a common problem on many of today's instruments.
For our first guitar model, called The Sonnet, we began by deciding on a distinctive tonal character we wanted to achieve. From there, we fine tuned the instrument in order to enhance its tonal balance with our body and neck designs. The same concept was used for the design of the T-Wave guitar. We have ended up calling the designs "Tone-Influent" Shapes, the end result being a more balanced tone all over the fretboard, and a better overall resonance.
Magneto guitars are the combination of new world design and old world craftsmanship!
The post Rosetti Announce New Magneto Starlux appeared first on Music Instrument News.
Source: musicinstrumentnews.co.uk