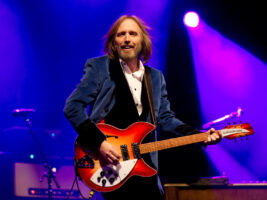 Tom Petty's family sue auctioneers for selling allegedly stolen property
The family of the late Tom Petty are suing an auction house for selling what they claim are stolen items from Petty's personal archive.
READ MORE: James Hetfield visits injured Ukrainian soldiers in hospital 
Petty's family are suing auction house RR Auction over a collection of items that includes clothing, guitar straps, posters, CDs and vinyl, some of which are signed by Petty himself. The auction house has listed dozens of items from Petty's vaults on its website, with bids ranging from hundreds to thousands of dollars.
The collection includes rare and iconic items, including a space-themed vest that Petty wore at Live Aid in 1985, a Guns N' Roses tour jacket with a customised name tag that reads "Tom – I'm With Axl", and a pair of black Zodiac boots.
However, Petty's family – his widow Dana York Petty and daughters Adria Petty and Annakim Violette – have issued a statement accusing RR Auction of offering stolen property with a false provenance.
"We believe RR Auction, headquartered in Boston, is offering stolen Tom Petty memorabilia with a completely false provenance inaccurate to fact and in complete denial of clear evidence they have been presented. They will not disclose the cosigner who has provided these items or how they were acquired. But they are clearly stolen, there is no other word for it," the family said in their statement (as per Ultimate Classic Rock).
"These items have irreplaceable sentimental and educational value for the family and legacy of Tom Petty and we look forward to their safe return."
(1/6) The family of Tom Petty is pursuing swift legal action against RR Auction house. The house has announced a current auction of personal property of Petty's that the entire family firmly believes has been outright stolen from a secured archive based on prior knowledge,… pic.twitter.com/AN2fSRabjO
— Tom Petty (@tompetty) May 24, 2023
The family has also urged fans and collectors not to bid on the items until the matter is resolved.
RR Auction has not commented on the lawsuit yet. The auction is scheduled to end on June 22.
The post Tom Petty's family sue auctioneers for selling allegedly stolen property appeared first on Guitar.com | All Things Guitar.
Source: www.guitar-bass.net