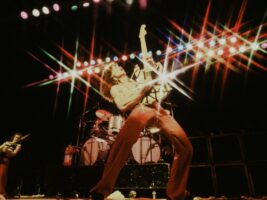 New docuseries covering Van Halen's pivotal 1983-1984 period announced
A new documentary series exploring Van Halen's pivotal 1983-1984 period has been announced.
READ MORE: Paul Simon reveals mysterious hearing loss in left ear during new album's making
The series, simply titled Van Halen 1984 Documentary, is a fan-made project conceived by Alan Berry, who previously made the film Steve Vai: His First 30 Years in 2022.
Van Halen 1984 Documentary will consist of five episodes covering various milestones in Van Halen's career during the period, including the construction of Eddie Van Halen's personal recording facility, 5150 Studios, playing at the gargantuan US Festival, producing their landmark album 1984, touring the world and the breakup of their debut lineup.
The series is set to feature interviews with numerous people who were close to the band, including former manager Noel Monk, producer Ted Templeman, engineer Donn Landee and photographer Neil Zlozower.
Rare footage and photos of the band will also be featured, as well as newly uncovered information and media never seen by the public. Berry said he spent seven months researching, interviewing and editing the series, which he describes as "a labour of love".
The series aims to capture the peak of Van Halen's creativity and popularity, as well as the tensions and conflicts that led to their split. The band, which consisted of Eddie Van Halen, David Lee Roth, Alex Van Halen and Michael Anthony, was one of the most influential and successful rock groups of the 1980s, selling millions of albums and setting new standards for guitar playing and live performance.
The first two episodes of the series are already available for free on The Tapes Archive YouTube channel. The remaining episodes will be released in the coming weeks. The series is unofficial and not endorsed by Van Halen or their representatives.
The post New docuseries covering Van Halen's pivotal 1983-1984 period announced appeared first on Guitar.com | All Things Guitar.
Source: www.guitar-bass.net