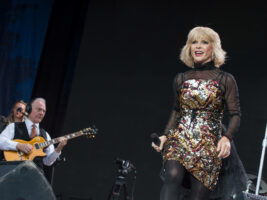 Toyah Willcox says a Sunday Lunch movie is in the works
According to a new interview with Toyah Willcox, a Sunday Lunch movie is in the works.
READ MORE: "There are King Crimson fans who have been outraged at my conduct!": Robert Fripp on the response to his Sunday Lunch YouTube covers
Willcox and her husband, King Crimson's Robert Fripp might be accomplished musicians in their own right, but they shot to prominence with a new audience at the height of the COVID-19 pandemic when they began uploading videos to YouTube.
Entitled Toyah and Robert's Sunday Lunch, their videos feature covers of well-known songs, with their cover of Metallica's Enter Sandman receiving over 8.4 million views to date.
They've been on tour with it, and now it looks as though there's even going to be a movie too. Speaking to eonmusic, Willcox explains, "Well, the Sunday Lunch phenomenon, which is a worldwide phenomenon which a movie's being made about, it's basically, we picked up on classic rock, and our treatment of rock is; if you can teach Mozart and Beethoven in schools, then why can't you teach classic rock? Because that's what it is now; rock from Led Zeppelin, rock from Black Sabbath; it's classic, it's never going to go away. And it's something that I think, kids would really love learning about.
"Sunday Lunch came about because we posted one clip, 28 seconds, something like 19th of April 2020, and we had 100,000 replies within five minutes from people who were just desperate, absolutely desperate. They were on their own. They were in lockdown. They didn't know when they'd be able to leave their apartments, and we, Robert and I realised that this was at that particular time, a very lonely and frightened world.
"So we decided to keep posting, and it grew from there. What we didn't expect is it went from about 100,000 to 10 million, and then last week it was 120 million. So it's getting bigger and bigger. It's actually become like a brand."
As for the movie, there's a documentary crew following the couple and "quite a big" production company working on an idea. "Obviously we won't be in it," adds Willcox, "It's for actors to play, but that's all in the back kind of pool of what do you call pre-production. All of that's going on."
The post Toyah Willcox says a Sunday Lunch movie is in the works appeared first on Guitar.com | All Things Guitar.
Source: www.guitar-bass.net