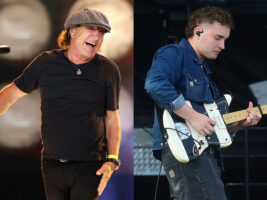 Watch: AC/DC's Brian Johnson joins Sam Fender on stage for two of the band's iconic tracks
Sam Fender was joined on stage by AC/DC's Brian Johnson on Saturday (10 June) for performances of the Aussie rock titans' Back In Black and You Shook Me All Night Long.
READ MORE: Sam Fender "not too keen" on Bruce Springsteen comparison: "I don't just rip him off"
Fender played a two-night stint at St. James' Park stadium in his hometown of Newcastle on Friday 9, and Saturday 10 June, where he performed tracks from his recent album Seventeen Going Under and other hits from his catalogue. It also saw him perform a cover of Bruce Springsteen's I'm On Fire, which you can watch below.
Writing on Instagram before the gigs began, Fender said: "This day has been the subject of a joke for about 15 years of my life. When I formed my first band at 14, we would joke about playing here – but it was genuinely just a joke, we didn't believe it was possible, who would?"
He added, "We fucking did it boys. We fucking did it. Thank you so much to every one of you, my friends, my family, my fans. You are the ones who made this happen, I am in debt to you all – and I intend on paying some of that back this weekend. For all the ones who didn't make the night! Hold tight Newcastle."
View this post on Instagram
A post shared by Sam Fender (@sam_fender)
During the second night, vocalist Johnson was captured by fans in the crowd as he belted out two of his band's big hits as Fender twanged on a Les Paul, and offered supporting vocals. You can watch both performances here:
Fender could also be seen playing a black and white striped Fender Jazzmaster (inspired by the colours that represent his favoured football team, Newcastle United), which was crafted as a surprise for the indie-rocker.
@fender
We surprised @Sam Fender with a custom Newcastle UTD-inspired Jazzmaster, refinished by RF Custom UK (@rfcustomuk on IG). See his reaction #Fender #FenderGuitars
♬ Garage indie rock with a sense of speed – POLARIS PLUS
To catch Sam Fender on his upcoming shows, get tickets from his official website.
The post Watch: AC/DC's Brian Johnson joins Sam Fender on stage for two of the band's iconic tracks appeared first on Guitar.com | All Things Guitar.
Source: www.guitar-bass.net