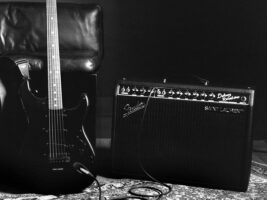 Fender just partnered with Yves Saint Laurent on a range of guitar gear – and its as expensive as you'd expect
Fender has partnered with French luxury fashion house Yves Saint Laurent on a range of new guitar gear. Yes, you did, indeed, read that right.
READ MORE: HAIM were told they'd never make it in music: "Being told you'll never sell out a venue… It fuels the fire"
The collection comes as part of an initiative by Fender to increase its level of cross-industry collaboration, which, back in March, saw the guitar giant partner with Wrangler on a range of denim-covered guitar cases, straps and picks.
It comprises a limited-edition Stratocaster – which is so limited, in fact, that there's only 10 worldwide – a custom '65 Deluxe Reverb combo amp and even a set of collectible guitar picks.
First up, easily the highlight of the collection is the Limited Edition Fender x Saint Laurent Stratocaster. Why is it the highlight, you ask? Well, just look at it.
Credit: Yves Saint Laurent
Boasting an all-black aesthetic that would give Jim Root's signature guitar collection a run for its money, the guitar sports an alder body, maple '60s Oval C-shaped neck, and a 21-fret ebony fingerboard with sterling silver dot inlays.
Elsewhere, the guitar features three '60s Stratocaster single-coil pickups with black lipstick covers, a vintage synchronised tremolo, and a blacked0out headstock with black vintage-style tuners. Apart from the frets and fretboard position markers, the only non-black aesthetic feature of this guitar is the Saint Laurent logo just beneath the bridge.
Astonishingly, despite its sky-high $12,500 price tag, nine of the 10 models built have already been sold, with just one left available to purchase at Yves Saint Laurent. Fender says additional models can be built on request, but you'd be paying the retail price plus custom building fees. A lot, basically.
Next in the collection is the Limited Edition Fender '65 Deluxe Reverb x Saint Laurent Amplifier. The specs of the amp remain the same as a standard '65 Deluxe Reverb, offering a pair of 6V6 Groove Tube output tubes, one 5AR4 rectifier tubes, four 12AX7 preamp tubes, two 12AT7 tubes, and one 12 inch 8-ohm Jensen C-12K speaker.
The limited-edition amp also includes a YSL logo, an upgraded YSL-branded cover and a black grille cloth. This amp is priced at $3,000, almost double the price of the standard '65 Deluxe Reverb.
Lastly, the collection also features Fender x Saint Laurent celluloid picks. These classic Fender 351 picks come in a collectors tin, featuring Fender and Saint Laurent graphics with foil stamped logos. Each tin includes six picks, and is priced at $32.
"Saint Laurent is one of the most celebrated luxury brands in the world and an influential powerhouse in fashion culture," says Justin Norvell, Executive Vice President of Fender Products. "We are honored to partner with them to infuse iconic elements from both of our legacy roots in this beautiful 'Limited Edition Saint Laurent' collection."
For more information, head to Fender or Yves Saint Laurent.
The post Fender just partnered with Yves Saint Laurent on a range of guitar gear – and its as expensive as you'd expect appeared first on Guitar.com | All Things Guitar.
Source: www.guitar-bass.net