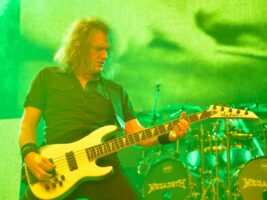 Watch: David Ellefson teams up with Megadeth tribute band for a New Year's Eve jam
Former Megadeth bassist David Ellefson has teamed up with James Rivera's Metal Asylum to ring in the new year with a series of rock and metal performances at a live bar in Texas.
READ MORE: Mark Tremonti on turning down offer to try out for Pantera reboot: "It's not just about the playing"
Headlining the New Year's Eve event was metal project Metal Asylum, who were joined and supported by Santa Oscuridad and Megadeth tribute band, Rust in Peace.
Ellefson, who was announced as a special guest for the evening, also played a set of classics from his former band alongside Rust in Peace.
Check out the performances of Symphony of Destruction and Peace Sells below.
Happy New Year with DAVID ELLEFSON and Rust In Peace (Megadeth tribute) at Fitzgerald's: "Symphony of Destruction" & "Peace Sells"
Posted by Jay K. Nanda on Saturday, December 31, 2022
What can I say. the inner 12 year old me is living for this moment. I just played rust in peace in its entirety with…
Posted by Daniel Contreras on Saturday, December 31, 2022
And later in the night, Ellefson joined Rivera's Metal Asylum on stage for a rendition of the Judas Priest's hit track Living After Midnight.
Ringing in 2023 with James Rivera of Helstar and Dave Ellefson formerly of Megadeth rockin Judas Priest Livin After Midnight. Good times
Posted by The Zoo – Rock Rage Radio on Saturday, December 31, 2022
In other news, Ellefson and fellow ex-Megadeth member Jeff Young have announced that they will be embarking on a 2023 world tour as their new project Kings of Thrash. The duo will be joined by yet another onetime member of the metal outfit, Chris Poland, for the shows, where they'll perform two Megadeth albums — 1985's Killing is My Business…and Business Is Good and 1988's So Far, So Good…So What — in their entirety.
The tour will commence on 16 February in Joliet, Illinois. Check out the full list of dates below.
16 February – Joliet, IL – The Forge
17 February – Minneapolis, MN – Varsity Theater
19 February – Madison, WI – Majestic Theatre
20 February – Indianapolis, IN – The Vogue
21 February – Columbia, MO – Blue Note
22 February – Columbus, OH – King Of Clubs
24 February – Flint, MI – The Machine Shop
25 February – Cincinnati, OH – Legends Bar And Venue
27 February – Cleveland, OH – Beachland Ballroom And Tavern
28 February – Warrendale, PA – Jergels
01 March – Buffalo, NY – Town Ballroom
03 March – Poughkeepsie, NY – The Chance
04 March – Sayreville, NJ – Starland Ballroom
05 March – Harrisburg, PA – Midtown Arts Center
07 March – Ardmore, PA – Ardmore Music Hall
08 March – New York, NY – Gramercy Theatre
10 March – Charlottesville, VA – Jefferson Theatre
11 March – Greensboro, NC – Hangar 1819
12 March – Asheville, NC – The Orange Peel
14 March – Charleston, SC – Music Farm
15 March – Atlanta, GA – The Masquerade (Hell)
The post Watch: David Ellefson teams up with Megadeth tribute band for a New Year's Eve jam appeared first on Guitar.com | All Things Guitar.
Source: www.guitar-bass.net