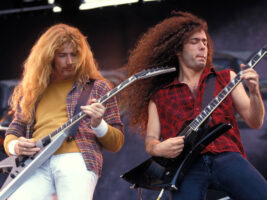 Watch: Marty Friedman reunites with Megadeth onstage for the first time in 23 years
Ex-Megadeth guitarist Marty Friedman has reunited onstage with his former band for the first time in 23 years.
READ MORE: Metallica invite fans to "duet" them in latest TikTok video teasing new song
The much-awaited reunion took place Monday (27 February) at the band's first-ever show at the Budokan Arena in Tokyo, Japan.
Friedman joined the group on stage near the end of the main set, playing 3 songs — Countdown to Extinction, Tornado of Souls, and Symphony of Destruction — alongside Megadeth's current guitarist Kiko Loureiro.
"Ladies and gentlemen, please welcome my dear friend, Marty Friedman," frontman Dave Mustaine told a wild crowd. The two musicians also hugged at the end of the segment before Friedman exited the stage.
Check out fan-filmed footage of the performance below.
Joining Megadeth in 1990, Friedman served as the band's lead guitarist for ten years, releasing five albums with the group including the genre-defining Rust In Peace and Countdown to Extinction. He left the band in 2000 due to creative differences.
"It has been a long time — 23 years to be exact since I've been on the same stage with Dave Mustaine making music," Friedman said of the reunion.
"We've both taken drastically different paths since then. That doesn't change the fact that I'm extremely proud of the part that I played in Megadeth's history and legacy. I'm also very, very proud of the band's many great achievements and continued success in my absence. For right now, I just feel immense joy and some serious adrenaline. I am looking forward to playing with Megadeth at this very cool place, the Budokan."
The post Watch: Marty Friedman reunites with Megadeth onstage for the first time in 23 years appeared first on Guitar.com | All Things Guitar.
Source: www.guitar-bass.net