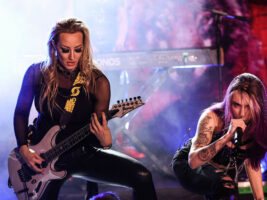 Watch Nita Strauss salute Dimebag Darrell with a blazing cover of Pantera's Cowboys From Hell
Nita Strauss has just started her highly-anticipated Summer Storm US tour, and while the majority of her current setlist is made up of original material, a certain bona-fide heavy metal classic has taken position as the set's closer.
During the opening night of the tour in Nashville, Tennessee, and the second show in Atlanta, Georgia, Strauss has rounded off her set with a cover of Pantera's 1990 bruiser, Cowboys From Hell.
READ MORE: Nita Strauss praises "innovation" of modern guitarists: "It's so cool what this new generation of musicians is doing"
As you can see in the video below, Strauss's displays her formidable axe chops using her Ibanez JIVAX2 Ghost signature model throughout, though she very kindly offers her backing guitarist Johnny Young the chance to take the spotlight for some soloing.
Also a member of Strauss band is Deadlands frontwoman and internet personality Kasey Karlsen, who gleefully declares, "We're taking over this fucking town!"
Keen followers of Nita Strauss will know that this isn't the first time the guitarist has covered Pantera live. Back in 2018, at Sweetwater's Gearfest, she delivered a rendition of the metal titans' riff-driving classic, Walk, in tribute to Pantera drummer Vinnie Paul, who passed away at the same time the festival was on.
Strauss is set to release a brand-new record, Call Of The Void on 7 July this year, which will mark her second solo record following 2018's Controlled Chaos.
The new release is set to feature a line up of huge names in rock and metal, including longtime collaborator Alice Cooper, former Megadeth star Marty Friedman, and Halestorm guitarist Lzzy Hale.
"Some pieces of music come into the world gracefully and easily. This album is not one of them! The Call Of The Void was born kicking and screaming, a labour of love for sure, but also of blood, sweat, and plenty of tears," Strauss says of the record.
"I couldn't be more proud of the end result. Making this album helped me learn and grow so much as a musician and songwriter and I'm excited to finally unleash it on the world."
The latest single from the record, Victorious ft. Dorothy is out now. You can check it out below:
Strauss' current solo tour continues through to mid July across the US. You can get tickets to see her live, or pre-order her album now via her official website.
The post Watch Nita Strauss salute Dimebag Darrell with a blazing cover of Pantera's Cowboys From Hell appeared first on Guitar.com | All Things Guitar.
Source: www.guitar-bass.net