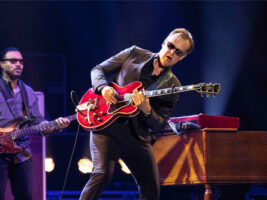 Joe Bonamassa announces new album, covers Bobby "Blue" Bland in new single
Joe Bonamassa has announced his new album Blues Deluxe Vol.2, which will land on 6 October 2023, 20 years on from the original best selling record.
READ MORE: Joe Bonamassa on "the two Erics" who inspired his iconic guitar tone
Bonamassa released Blues Deluxe back in August 2003. It was his third studio album and celebrated what the US government had declared "the year of the blues" with a mix of originals and reinterpretations of classic songs. Now, with Vol. 2, Bonamassa celebrates how far both he and the genre have come.
The album's second single, Twenty-Four Hour Blues – which follows I Want to Shout About It, which arrived last month – is out now, and is a cover of the Bobby "Blue" Bland classic of the same title.
The forthcoming album will feature two new originals and eight new covers in total, where Bonamassa will put his spin on classics from Bobby "Blue" Bland, Fleetwood Mac and Albert King.
"If you had told me 20 years ago my career would last long enough to see the 20th anniversary of this little record called Blues Deluxe, I'm sure I would have laughed," Bonamassa says.
"Blues Deluxe was my last shot after being dropped by two major record labels and my booking agent. It was then that my manager, Roy Weisman, had his first 'all in' moment. We would go back into the studio and record. A record that would hopefully define the direction of whatever future career I might have."
"On Blues Deluxe Vol. 2, I asked my great friend Josh Smith to produce a record to be a companion to the anniversary edition of the first album, and hopefully demonstrate a bit of how I have progressed over the last 20 years," he adds.
"The contrast between a cocky 26-year-old and an established 46-year-old is considerable. Does the fire still burn like it did? Am I still playing hungry? Am I even good enough to pay tribute to my heroes all over again?  The answer lies somewhere in this album."
In addition to the launch of Vol.2, Bonamassa will also release a remastered version of Blues Deluxe that will also land on 6 October.
Those based in North America can pre-order here, and those in the UK and Europe can do so here.
The post Joe Bonamassa announces new album, covers Bobby "Blue" Bland in new single appeared first on Guitar.com | All Things Guitar.
Source: www.guitar-bass.net