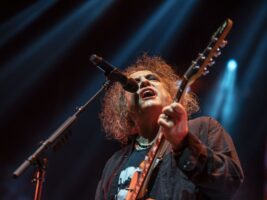 Watch The Cure debut new song, Another Happy Birthday, live on tour
The Cure have debuted a brand-new song, Another Happy Birthday, live on their ongoing North American tour.
READ MORE: Roger Waters faces backlash after referencing Anne Frank at show in Berlin
The English rockers played the song for the first time at the Hollywood Bowl in Los Angeles on May 23, as part of their three-night residency at the venue.
The melancholic ballad has a long history that dates back to 1997, when Robert Smith first mentioned it in an interview with MTV. He said it was "unlike anything The Cure have done before" and "not a verse-chorus-verse type of song, but more fluid", adding that it was part of a B-sides and rarities collection he was working on.
However, the song was never released or performed until now. It's not clear if it is the same version as the one Smith described in 1997, or if it has been changed or updated over the years. It is also unknown if it will be featured on The Cure's upcoming new album, Songs of a Lost World, which Smith has been teasing for some time.
Another Happy Birthday is not the only new song that The Cure has debuted on their current tour. They have also played other unreleased tracks including as Alone, And Nothing Is Forever, A Fragile Thing and I Can Never Say Goodbye. The band's setlist has also. featured some rarer cuts from their extensive catalogue.
The Cure's North American tour will continue through June and early July, later seeing them headline Riot Fest in Chicago in September. The band is also expected to tour South America later this year. For a full list of upcoming dates, head to the band's website.
The post Watch The Cure debut new song, Another Happy Birthday, live on tour appeared first on Guitar.com | All Things Guitar.
Source: www.guitar-bass.net