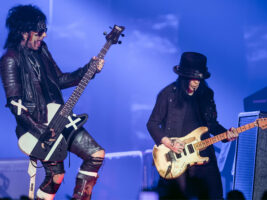 "We never saw it coming": Nikki Sixx on Mick Mars' exit from Mötley Crüe
Nikki Sixx has said that Mötley Crüe "never saw it coming" that Mick Mars was going to quit the band amid their huge world tour.
Mick Mars, the band's lead guitarist, departed back in October of 2022 citing health issues as his reason, and was then replaced by Rob Zombie guitarist John 5. A pretty ugly lawsuit followed his departure.
READ MORE: Mick Mars on Mötley Crüe lawsuit: "They're trying to take my legacy away"
Mars sued the band after his exit accusing the band of conspiring to fire him, and made allegations that Sixx had been miming on stage. These allegations were strongly denied.
In a new interview with Guitar World, Sixx has his own say on Mars' shock exit: "We never saw it coming that Mick wasn't going to be able to tour and was going to have to quit the band," he says.
"In the middle – not even the middle – of a huge tour, we had to ask ourselves, 'Do we want to let the fans down? Do we want to let Live Nation down? Do we want to let Def Leppard down? Do we want to let ourselves down because an original member of our band can't tour anymore?' We had to have a deep, deep look into what we were going to do."
Speaking of John 5 as replacement, he later adds, "[In regard to] John, knowing all the members of the band, and me having this relationship with him writing and as friends, and even being in the studio with him writing stuff with the band for The Dirt, it felt like a no-brainer in a horrible situation – something we did not ask for or want.
"And then it was just kind of obvious. If there was 'the guy', John was the guy. Like I said, we didn't choose this, but since we had to be put in this position, we're very happy with where we're at right now."
No further developments on the lawsuit have yet been shared. For upcoming tour dates, check out the band's official website.
The post "We never saw it coming": Nikki Sixx on Mick Mars' exit from Mötley Crüe appeared first on Guitar.com | All Things Guitar.
Source: www.guitar-bass.net