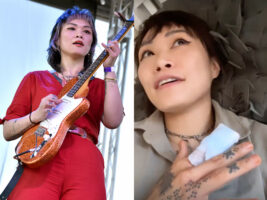 Yvette Young jokes "I'm never using a pick again" after cutting tip of her finger off
Covet guitarist Yvette Young might be taking some time out from playing for a while. In a new Instagram Story, the math rocker shares that she has accidentally cut the tip of one of her fingers off, but is doing okay.
Young had recently been working with guitar picks – something she doesn't normally use as a finger tapper – and has joked that she will never use one again in a video shared online.
READ MORE: Yvette Young on recording Covet's new album: "I feel like the most challenging thing was recording the record before I had a chance to play them in a room live"
Accompanying a snap of a bloodied bandage on her hand, Young writes, "Ya gurl outta commish for a bit (I'm ok just no guitar for a sec)".
In a video also posted she says, "I'm never using a pick again. I'm just kidding [she laughs], everyone keeps asking if it's 'cause I used a pick! No, I'm a dummy and I cut the tip of my finger off, they re-attached it, all is well I'm gonna be good. Tetanus shot, crucial."
Image: @yvetteyoung on Instagram Stories
Young also hand-paints guitars around her work in Covet, something she will probably take a step back from until her finger patches up. Back in June she painted a Fender Acoustasonic for Julien Baker of Boygenius, featuring a plethora of birds, flowers and plants, on a yellow background.
"This Acoustasonic is going off to the lovely Julien Baker. It was an absolute honour and I hope it brings her much joy and inspiration on and offstage," Young said in a post also on Instagram.
View this post on Instagram
A post shared by Yvette Young (@yvetteyoung)
Covet released their most recent record, Catharsis in April of 2023. In an interview with Guitar.com before its release, Young  shared how it came to life: "I started writing the songs during quarantine. I think the downtime during the pandemic gave me a lot of time to actually write, so that was important for me. A lot of these songs are inspired by demos, and I tried to make all the songs tell a different story.
"The overall theme is escaping to a fantasy world, and each song is a theme song for a certain character. I can't reveal too much more just yet, but I'm very excited about it. I hope the whole thing flows smoothly from front to back. It's the first time I tried to do anything like that," she said.
We wish her a speedy recovery!
Check out the latest news from the band on the Covet website.
The post Yvette Young jokes "I'm never using a pick again" after cutting tip of her finger off appeared first on Guitar.com | All Things Guitar.
Source: www.guitar-bass.net