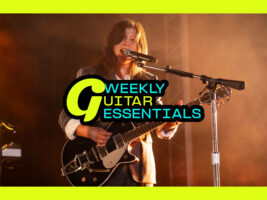 Weekly Guitar Essentials: Brittany Howard, Boygenius, Judas Priest and more
It's time for the week's essential guitar tracks. The best in the guitar from the last seven days – from the biggest names in music to your new fave underground artist. This week, we've got everything from the new solo single of Alabama Shakes frontwoman Brittany Howard to some old-school Bring Me to some surprising collabs. You can check out each track below, or follow the playlist on our Spotify.
Jimmy Buffett – Mozambique (Feat. Emmylou Harris)
Following his passing last month, the estate of country-rock legend Jimmy Buffet announced Equal Strain On All Parts, a posthumous album that's due out in November. Upon its announcment, three songs were shared – including one featuring Paul McCartney on bass. Now, a new track from the record has been shared – a cover of Bob Dylan's Mozambique, featuring Emmylou Harris, and some joyous lead guitar.
Brittany Howard – What Now
Brittany Howard – the awesome frontwoman of the equally awesome Alabama Shakes – has announced a second solo record, entitled What Now. The first single, the title track, features here towering vocals along with some killer fuzzed-out guitar lines.
Boygenius – Afraid Of Heights
Last friday, indie supergroup Boygenius released their EP the rest, a short companion piece to the record. It's boygenius, so the whole thing is great, but check out Afraid Of Heights as a particular highlight.
Bring Me The Horizon – DArkSide
Bring Me the Horizon have a new record on the way, POST HUMAN: NeX Gen – and ahead of it they've released the anthemic new single DArkSide. It's pure old-school bring me, and even samples a bit of Papa Roach – we won't spoil how.
Judas Priest – Panic Attack
Judas Priest are back, and their brand of heavy metal is as bombastic and riffy as ever. Halford's vocals are still on point, and the solos on this track are crazy good.
The Vaccines – Sometimes, I Swear
The Vaccines have called their new album Pick-Up Full Of Pink Carnations "hopeful and euphoric", and that's certainly the vibe given off by the opening track Sometimes, I Swear. It's driving and anthemic, and is a refined example of the sound the band has been developing over their career.
Lenny Kravitz – TK421
Lenny Kravitz has a new album on the way, Blue Electric Light, and to celebrate he's released a video in which a Gibson Firebird is not the only thing he's swinging around in the comfort of his own home.
The Libertines – Run, Run, Run
Yes, that The Libertines, the band partially responsible for every other "the [Blank]" band name across the 2000s. They're back with another record, and from the sounds of Run, Run, Run, it's promising more of their trademark post-punk revival jangle. The only question is, are they now post-post-punk, or post-punk-revival-revival?
Bombay Bicycle Club – Tekken 2 (feat. Chaka Khan)
My Big Day is shaping up to be a really, damn good record – full of all the idiosyncrasies Bombay Bicycle club are great at. Plus, this track is about the joyful feeling of playing Tekken in an arcade, and has a guest vocal from freakin' Chaka Khan. An "instant mood improvement" song.
Full Of Hell & Nothing – Spend The Grace
Serial collaborators Full Of Hell are, once again, collaborating with an artist on a full record! Last time it was a split with Gasp, before that a collab with Primitive Man, and now heavy shoegazers Nothing. The debut track from the collab is as moody, strange and feedback-laden as you might expect.
Check out the full playlist:
The post Weekly Guitar Essentials: Brittany Howard, Boygenius, Judas Priest and more appeared first on Guitar.com | All Things Guitar.
Source: www.guitar-bass.net