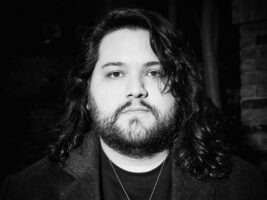 Wolfgang Van Halen is carving his own niche: "It's really flattering to see people view me as my own person"
When Wolfgang Van Halen's debut album as Mammoth WVH appeared in 2021, many people probably assumed that this was the work inspired by the loss of his legendary father Edward in 2020 – in truth its roots are much deeper and poignant. Wolf began the Mammoth project all the way back in 2013, when Van Halen came off touring A Different Kind Of Truth – and it was an intensely personal process. "It's fully my creative outlet because I'm playing everything," he says, "so it's unabashedly me from the heart."
READ MORE: The Genius Of… Icon by Paradise Lost
Put together over three years between Van Halen tours (plus his commitments with Mark Tremonti's eponymous solo project) the album was finally nearly completed, but then life got in the way. That album's closing track, Distance explains why it took over half a decade for the album to see the light of day – a song that sees a young man wrestling with the prospect of losing his father, as Eddie battled throat cancer. Distance is why Mammoth WVH didn't see the light of day for a decade after its completion – knowing the touring and other commitments that would come with promoting an album, Wolfgang made the best decision possible – he put his career ambitions on hold to make the most of the time he had left with his dad.
Wolfgang Van Halen. Image: Press
It's no surprise then, that Wolfgang was keen to keep the momentum going after the hugely positive reception that debut album received, and barely two years later he's back with Mammoth II (the Van Halens, it seems, have a real penchant for numeral-based album titles.
"It feels really fresh," Wolfgang tells us with a grin, reclining on a sofa in Fender's central London showroom, the room gently warming as the sun streams through the large arched windows. "The first one took 12 sessions over three years to put together, but with this one, it was two and a half months. I can't wait for the music to be out so we can start to play it live."
Mammoth WVH touring lineup. Image: Javier Bragado
Between his debut album's release and the present moment, Mammoth WVH's diary has been full of huge shows – coast-to-coast headliners in North America, arena shows with Alter Bridge, stadium gigs with Guns N' Roses, and perhaps most poignantly, Wolfgang played his father's songs as part of an all-star band featuring Dave Grohl, Josh Freese and Justin Hawkins at the Taylor Hawkins tribute gigs in London and LA.
The dance card doesn't show any signs of freeing up either – Mammoth WVH also opened for the Def Leppard/Mötley Crüe show at Wembley Stadium, and have recently opened select shows with Metallica – "It's an honour to be part of anything like that," Wolfgang says of the gigs with Hetfield and co. "The stage is so unique – it's like a big doughnut, I've never played anything like it. You have to be aware that there's people behind you, and in front of you, and literally everywhere. You're in the thick of it."
Centre Stage
Wolfgang Van Halen. Image: Press
The pressure of a live environment is nothing new to Van Halen, of course. Indeed, the main place where Wolfgang says he has learned to thrive, and crucially, evolve as both a musician and a performer, has been on a stage.
"On the first album, I was still trying to figure out if I could do it. There were so many ifs – 'Can I play all these instruments? Am I going to be able to sing? Can I succeed as a lead singer, will that work?'" he explains. "But then after doing that for two years, it allowed me to experiment and figure out how I wanted to push the sound and get more creative. There's so much on here that's an evolution of the first album that wouldn't have fit on [there] – there's heavier stuff, stuff that's poppier, there's more epic, longer songs. Mammoth II is the perfect name for it, because it really is like a sequel to the first album."
Wolfgang Van Halen and his Mammoth WVH tattoo. Image: Press
Even when Wolfgang's been in the studio, a piece of his mind has remained on the stage – and with his live CV looking more illustrious by the minute, said stage was never going to be small. He's seen first-hand now what spikes the energy in the crowds, and how he can win over those who might not have been there to see him specifically. "My experience playing all the time with my live band really helped and informed the writing process," he says. "There are so many moments on the album, when we were recording it, where I was like, 'Oh man, this will be killer live'."
The result is an album with sharper edges, a greater sense of individuality, and an iron-clad sense of assurance, but as a corollary of countless nights in front of thousands of people, has clearly been sculpted for the live experience. Take lead single Another Celebration At The End Of The World – its riffs chug under fiercely hit percussion with more aggression, and it even boasts a "Hey now, shout it back to me," refrain that feels engineered for a call-and-response exchange at a sold-out show.
Within the wider scope of the record, Wolfgang also acknowledges his output has generally become more aggressive, partly because he knows what works live, and partly because he'd had Meshuggah and Tool on repeat. "You want to entertain the crowd and get that energy going as much as possible. I think that really informed the process of everything being heavier, just maybe as a result of being more comfortable." There's also more soloing this time around, though he admits it's more because the songs called for them than a conscious decision to make more space for virtuosity.
Though, sonically, Mammoth II arrives with the feeling of enough fire to launch it into the stratosphere, there's still heart beneath it. Wolfgang's lyrical approach this time around turned out to be, perhaps unsurprisingly, much more inward looking, in contrast to his debut.
"My lyrical focus usually ends up being emotional, social topics, relationships and stuff like that, but this album is way more inward-looking because it reflects my thought process, and maybe all of our experiences the past few years with everything that the world has gone through and everything that we've gone through," he reasons. "I've had a lot of life thrown at me in the last four years, and I think this whole album is a response to all of that. It's very anxious and depressing, while also celebratory all at the same time."
If you needed a more visual example of the emotional range it encompasses, look no further than its cover art – a skeleton slumped backwards, as if it has whiplash, in its chair while fireworks explode above it. "It really emotionally resonated with me and how everything's been going."
Family Business
Wolfgang Van Halen. Image: Press
Appropriately, Wolfgang says all of this in a room where he's surrounded by the amps and guitars produced by the gear company his father created with Fender in 2009, EVH. Wolfgang hasn't always repped the family brand in his career, but recently he been working with EVH to craft an instrument that is fully his, as opposed to just using one of his dad's guitars – it's the guitar you'll have seen him using pretty much exclusively of late.
"[I love] the marriage of respect to the classic instruments, but at the same time, being really driven for performance and speed," he explains of the EVH brand philosophy. "It's such a solid company. Nothing's ever less than 110 per cent and it's just balls to the wall. It's perfect."
The guitar was used almost exclusively on Mammoth II and a production model will follow next year. The guitar will be called the SA-126 – the numbers are a nod to his dad's birthday, 26 January, and it's a choice that will make Van Halen die-hards smile. Back in 1991, Eddie gave an untitled instrumental track on the band's For Unlawful Carnal Knowledge album the name 316 as a tribute to his newborn son, who had been born on the 16 March – a reciprocated tribute three decades in the making.
Wolfgang Van Halen. Image: Press
"It really is a marriage of the classic semi-hollow vibe with the performance engineering that EVH is known for," Wolfgang continues of the SA-126's break with EVH's tradition of solidbody shred machines. "It's a corner of the brand that hasn't really been offered yet. It was the third prototype that we had made, and it's the backbone of this album. It's got a crazy warm tone, but there are moments where the cleans are incredible too. It's such a versatile instrument, and I'm so excited to finally get it out there so people can start to experience it."
Wolfgang is far from the first child of an iconic musician to follow the same path, but few have had to step out of such an imposing shadow as that cast by Edward Van Halen every time his son picks up a guitar. It speaks to Wolfgang's understanding of this that he understood the need to forge his own guitar identity from the off – right down to the gear he played.
Wolfgang Van Halen. Image: Press
"I found that playing semi-hollow guitars added that warmth in tone that separated me enough from my father while still being an extension from it as well," he explains. "It was born out of necessity, but now I can't imagine not playing a semi-hollow."
How close, then, does he feel to reaching the point where he's finally widely recognised as Wolfgang Van Halen first and Eddie Van Halen's son second?
"Luckily, and thankfully, it's starting to happen," he reasons. "I see people being a fan of the music first and then only then realising, 'Oh shit, I had no idea you [were Eddie Van Halen's son]. That's a really huge compliment because I feel like that can only take you so far, and being a fan of my father doesn't necessarily mean you're a fan of the music that I make. It's really flattering to see people view me as my own person." He grins. "I'm gonna be myself whether or not anybody has a problem with it."
Good news then, because Mammoth II is more Wolfgang Van Halen than ever.
Mammoth II is out 4 August on BMG
The post Wolfgang Van Halen is carving his own niche: "It's really flattering to see people view me as my own person" appeared first on Guitar.com | All Things Guitar.
Source: www.guitar-bass.net