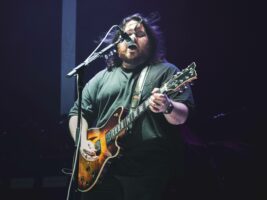 Wolfgang Van Halen to use Eddie's "notable guitars" for his solos on new Mammoth WVH album
Fans of Eddie Van Halen will hear the late musician's guitars in action once again on Mammoth WVH's upcoming sophomore album.
READ MORE: Slash says Guns N' Roses would've been 'cancelled' today: "We would not have fared well in this environment, for sure"
Speaking to Total Guitar in a new interview, frontman Wolfgang Van Halen revealed that most of the new album was recorded using his work-in-progress EVH semi-hollow signature guitar (named SA-126 after Eddie's birthday). Though the guitarist also intends to use some of his father's "notable guitars" to record his solos.
"The only thing I have left to do is track the guitar solos," Wolfgang said. "So what I want to do is go through some of Pop's notable guitars and do a solo with each of them."
"Guitars like the Frankenstein or the Shark, stuff like that."
The guitarist also shared that while he did not plan on using the EVH SA-126 prototype for the new album at first, the guitar's versatility took him by surprise and he ended up using the instrument on "pretty much the entirety of the album."
"We were almost surprised as we kept going through," Wolgang said. "It was like, 'Wow, okay this works for this, too' and 'Oh my god, this works really well again over here!' From the cleans to the really heavy stuff, it sounded crazy!"
Wolfgang had previously used the Frankenstrat — the most famous of his father's many customs — on two songs, Mammoth and Feel from the band's self-titled debut album in 2021. Of the experience, he said, "Picking up that guitar is almost a religious experience."
"Even if you're not a religious person. You just kinda hold it and feel the history right there in your hands."
Listen to the two tracks below.
The post Wolfgang Van Halen to use Eddie's "notable guitars" for his solos on new Mammoth WVH album appeared first on Guitar.com | All Things Guitar.
Source: www.guitar-bass.net