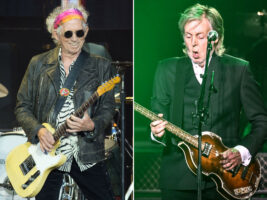 "You ain't leaving until you play!": Keith Richards explains how Paul McCartney came to guest on new Rolling Stones album Hackney Diamonds
Keith Richards has revealed how Paul McCartney ended up appearing on The Rolling Stones' new album Hackney Diamonds, and it turns out his appearance was rather spontaneous.
The Stones are gearing up to release their first album in 18 years – the follow-up to 2005's A Bigger Bang – on Friday (October 20), which is also their first release since the death of drummer Charlie Watts in 2021. Watts does, however, appear on two of its tracks: Mess It Up and Live By The Sword. 
READ MORE: "We're all about teamwork": Keith Richards explains why Jeff Beck never joined the Rolling Stones
McCartney, meanwhile, plays bass on Bite My Head Off, and was pulled in to play on the record when he happened to be in the vicinity of where the Stones were recording.
"He had been doing some work with Andrew Watt as well, and happened to be around and dropped by," Richards tells Guitar Player in a new interview. "I don't even think he intended to play bass on a track, but once he was in there, I just said, 'Come on, you're in. You ain't leaving till you play.'"
Richards goes on to reflect on the relationship between the Stones and the Beatles. "The Beatles and the Stones have been basically joined together at the hips from the beginning. We were totally different bands, but we knew each other well," he says. "I think we first met them in the fall of '62, when they came down to see us play in London, and from there, every now and again, we'd get in touch."
He goes on: "Later, John and Paul sang on We Love You and on Dandelion. We've always sort of been in touch. Ronnie and I used to hang with George Harrison quite a bit in the 1970s, so there's always been an open door between the Beatles and the Stones. We were the only ones that knew what it's like to have that extreme kind of fame in the 1960s, so that created a bond."
In 2020, McCartney told Howard Stern that he believed the Beatles were better than the Rolling Stones: "[The Stones] are rooted in the blues. When they are writing stuff, it has to do with the blues. We had a little more influences," he said at the time.
Jagger recently responded to the comments, telling  The Times,: "That's so funny. He's a sweetheart. There's obviously no competition."
"The big difference, though, is and sort of slightly seriously, is that The Rolling Stones is a big concert band in other decades and other areas when The Beatles never even did an arena tour, Madison Square Garden with a decent sound system. They broke up before that business started, the touring business for real."
The post "You ain't leaving until you play!": Keith Richards explains how Paul McCartney came to guest on new Rolling Stones album Hackney Diamonds appeared first on Guitar.com | All Things Guitar.
Source: www.guitar-bass.net