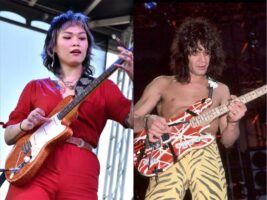 Yvette Young calls Van Halen the "Algernon Cadwallader of their time"
Yvette Young of Covet has shared her opinion on Van Halen, proclaiming them the "Algernon Cadwallader of their time".
READ MORE: "I love pushing the sound of the guitar and getting it to do things that people don't usually think it can do" Yvette Young on Covet's new album and her approach to guitar
In a new interview with Guitar World, the classically trained musician shared the story of how she became interested in rock. Revealing that her first encounter with the genre occurred when she came across The Darkness' 2003 hit I Believe In A Thing Called Love, Young added she had recently delved into the world of shred, and in turn, discovered Van Halen.
"I just started listening to Van Halen and all those rock bands," Young shared, adding that she did a deep dive into Van Halen's discography. "Their riffs are so catchy, and I was like, 'This stuff sounds wild.' Eddie's doing some really interesting stuff with effects. And it's really creative. To me, it's like the Algernon Cadwallader of their time. It's like party music – almost like party rock. So I love that energy and I love some of the tones and techniques and sounds on it and the way it's picked," Young said.
Young then recounted coming across a troll who called her a "shitty YouTube Van Halen", adding, "And I thought it was hilarious, because I never listened to Van Halen. Call me shitty YouTube TTNG or shitty YouTube American Football. That's more accurate, because that's what I grew up listening to. But now, as an adult, I know Eddie did tap, although it's a different type of tapping. I think it's cool to have both worlds now."
The post Yvette Young calls Van Halen the "Algernon Cadwallader of their time" appeared first on Guitar.com | All Things Guitar.
Source: www.guitar-bass.net