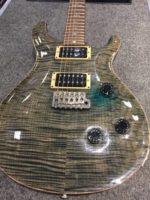 Artist Series 1 On the way
anyone know much about these? Its says Artist Series #270 on the back of the headstock and its 24 frets.
I couldn't help myself, it was advertised as a artist pack 22. The top is kinda faded and it has some chips on the edges of the back nothing major. For the price I'm thinking about sending it to PTC.
Source: http://forums.prsguitars.com