G System pedalboard critique
So I've worked on this for a while, and I thought I'd see if the wisdom of all the folks who've been on here for a long time have any ideas I haven't thought of.
First off – I built my own pedal board using 1/4″ sheet aluminum and U channel that I welded together. The pedals I have mostly (except for the rotophaser and amp pedals) screwed onto the board by drilling through the board and screwing counter sunk screws up into the pedals from underneath. There is a 3U rack mount wall mount screwed onto the back of the U channel (which is the top rail). I have an APC power conditioner power strip, the Korg rack mount tuner, and Carvin amp mounted in the rack. A T-Rex Goliath power supply is mounted to the board for the pedals. The G System is a later model buffer modified. The amps I use are Rivera M-60, Gibson Super Goldtone GA-30RV, or Egnator Rebel 30.
Guitar > Line 6 G50 Wireless > Fulltone Clyde Deluxe Wah > Lehle Sunday Driver > G System
v> Korg DTR 1000 Rack Tuner
G System > 2 X EB Tech Hum Eliminators > Amp. Four wire connected.
Loop 1 – TC Electronic Nova Drive with Midi Y cable
Loop 2 – Digitech Jamman Solo XT Looper
Loop 3 – Rivera Los Lobottom Sub1 300W subwoofer
Loop 4 – ISP Decimator II G-String
Volume Pedal – Boss FV-500H
Expression Pedal – Boss FV-500L
Right Output goes to a Morley Quad Box to split the signal.
Quad Box 1 > Fender Satellite SFX
Quad Box 2 > Carvin HT150 75 Watts per channel amp > MTI Rotophaser (Leslie Upper Half)
v> Motion Sound SR-112 (Leslie Bottom Half)
So……Thoughts, input, ideas? Anything I missed? Do you think I should be doing anything differently? What am I doing wrong?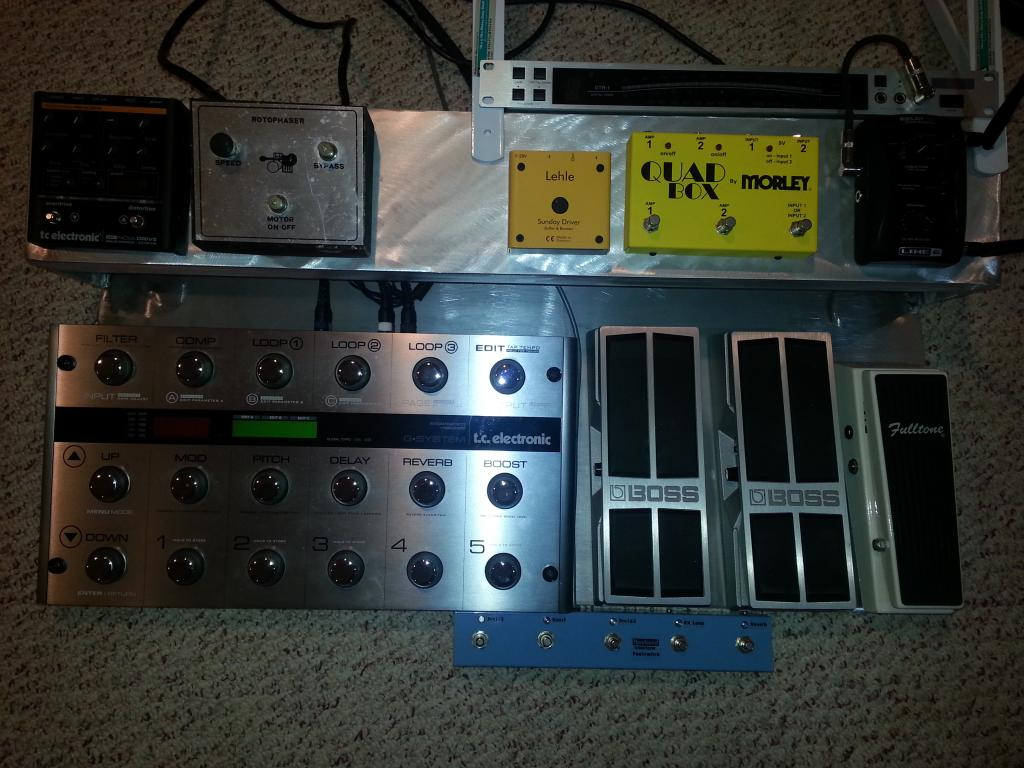 Source: http://forum.tcelectronic.com