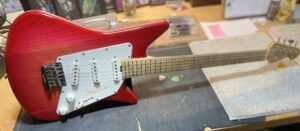 NGD: 1994 Albert Lee
Thanks to everyone who helped me research and differentiate between various AL model/features. I really appreciate the guidance. This is my first EBMM guitar and it won't be my last! Best necks ever! These stock AL pickups are pure perfection, as well.
I might consider a new pickguard and would put the original signed one in the case for safe keeping. Maybe white pearloid? Black w/ black covers & knobs? Tortoise & black? Leave it as-is?

Source: http://forums.ernieball.com