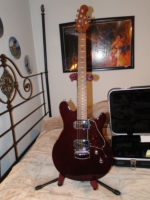 NGD and New EBNN Owner
Hello all. Over the July 4th Weekend, I went in to potentially buy a Gretsch. However, they had a
Ernie Ball
Music Man
Valentine in Trans Maroon prominently displayed as Guitar of the Week. Salesman saw me eyeing it, after trying out the Gretsch, and suggested I give it a whirl.
I'll be honest, an EBMM wasn't on my radar. I was actually looking to spend a little less. I have a friend (a few states away now) who swears by them. So, I did have that in the back of my consciousness. I've also been on a trend, of replacing and reducing my collection of lesser costing guitars, with better, of late. I probably shouldn't have tried the Valentine, cause, I had to have it after playing it. Top quality in every aspect, attention to all details, and just a ton of tonal options, between knob twirling, coil split, boost, etc. And that neck is just superb for me.
Between the 15% off for 'preferred' customer, the Fender I traded in (a duplicate I had, that saw no play), and a 4th coupon, let's just say I got a HECK of a deal (about 60% of normal street price).
Played with the trim pots, once I figured out what they did. It appears 2 are for each pup's silent circuit. The other 2 appear to control 1) the boost DB gain amount, and 2) it appears to be a neck only boost for when the coils are split. I am fairly sure on that last, as, sitting in the store, when split the neck pup was a lot louder. I now have it set so it is the same volume as the full humbucker mode (which is pretty cool, and should be standard on all coil tap guitars).
Other than that, it was setup perfect, with ultra low action (as low as is possible and not fretting out on bends, which I love).
Couldn't be happier.
It's now one of my top dawgs, with my Gibby Goldtop LP and my Fender Strat (though the Valentine is making the Strat less useful). I think I might have to sell my Telecaster now.
Some pics.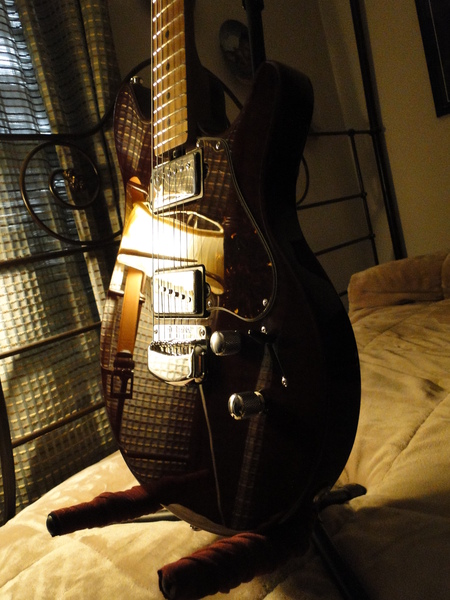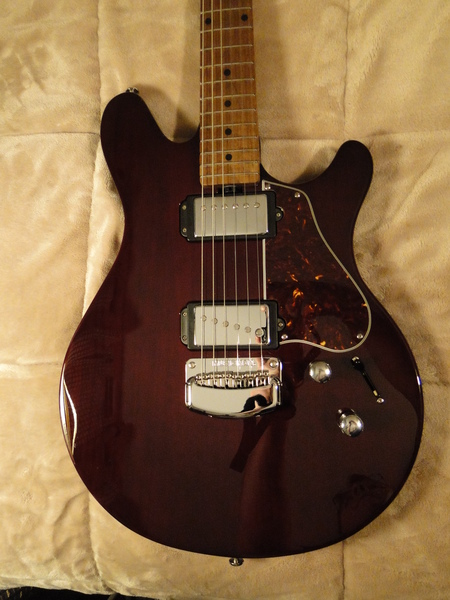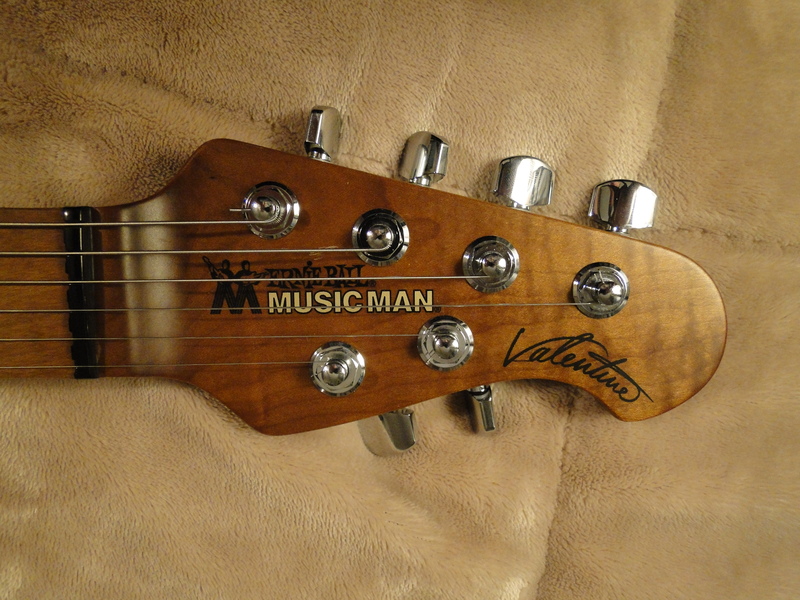 Source: http://forums.ernieball.com