NGD: Jason Richardson Cutlass 6 – Majora Purple!
Hey all!
Here comes number 3, to join my DK Stingray & Valentine BFR!
Absolutely in LOVE with the finish on this. This is also my first guitar with a 15″ radius and it feels great! Look forward to spending some good time with it tonight.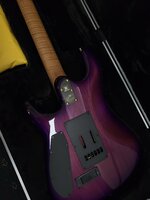 Source: http://forums.ernieball.com