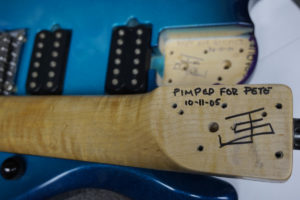 Really? 12 years since I got my first EBMM – still feel like a kid in a candy store
I haven't picked up this guitar in a long time (probably close to 5 years) and man have I missed it! I feel inspired every time I pick up this guitar. This happens to be the first EBMM that I bought for myself back in the fall of 2005. After I purchased it I immediately sent it off to EBMM for their repair shop to go through & seal the neck, buff the body, and replace a few parts that had tarnished.
When a few other cases get piled in front it got out of the rotation and was in dire need of some TLC – seriously tarnished frets, a fairly dry fingerboard, and rusty non-eb strings. At least I had remembered to take out the battery… The neck plate was also showing some tarnish.
Today I decided to get to work on the guitar & bring it back into the rotation, so I removed the strings & neck plate. Of course when removing the neck plate the neck will come loose, and to my surprise there was a note written in the neck pocket for me, by a former EBMM employee!
My fully loaded Blue Dawn JP6 from the initial run back in June 2001
Source: http://forums.ernieball.com