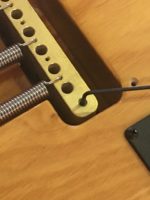 Tremolo bar problem solved.
A tip for my fellow MusicMen 🙂
I've googled this and nothing has come up.
I've been using my AL HH lately as I just connect to the instrument.
Whenever I've picked up my AL SSS, I've had to endure play between the tremolo bar and bridge. I actually thought there was a fault somewhere but haven't been able to trace it for months.
I removed the back plate and to my pleasant surprise, found a tiny Allen key screw which takes up slack between the arm and bridge.
Now the bar stays where I place it, and no more horrible play, even though very slight, was very off putting. I've also adjusted my axis.
Very happy. These bridges are fantastic.
Source: http://forums.ernieball.com