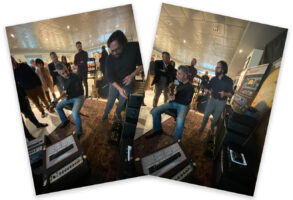 Ashdown Announce Algam Eko Exclusive Italian Distribution
Ashdown Engineering the UK leading Bass Amplification specialists are proud to announce the partnership with Algam EKO for exclusive distribution to the Italian market from January 1st 2023.
We are proud to be represented in Italy by a great team of individuals at Algam EKO, A family business who share our passion for the music industry and all that comes with building and supporting brands. With the network of dealers supported by Algam EKO we are excited to have the opportunity to grow within the Italian market once again.
The brand will become part of the EKO Division catalogue.
From '97 to today, Ashdown has provided bassists with an unmistakable sound on stage and in the recording studio thanks to a complete range of heads, cabinets, combos and effects pedals.
Now with a team of 24 reps across Italy representing the line, the agents of the EKO Division will be hitting the road to explain the brand's new commercial policy for the Italian market.
'After spending some time recently in Italy with the team at EKO, this appointment is a significant moment for us and a huge thanks to Stelvio, Maxi, Andrea and all in the EKO team for their excitement to launch with Ashdown in the Italian market' – Dan Gooday MD Ashdown Engineering.
With a global family of users that runs across all spectrums of the bass playing community, Ashdown Engineering remains as true to its roots today as in 1997, giving it a unique place in the hearts of bassists who know that just like them, Ashdown has bass in the blood.
We will be exhibiting at the NAMM show in 2023 in April with a selection of exciting product releases from Ashdown and Meters, offering high-quality consumer electronics, bass guitars, amplifiers, bass cabinets, pedals and so much more. For more information, please visit ashdownmusic.com & metersmusic.com

The post Ashdown Announce Algam Eko Exclusive Italian Distribution appeared first on Music Instrument News.
Source: musicinstrumentnews.co.uk